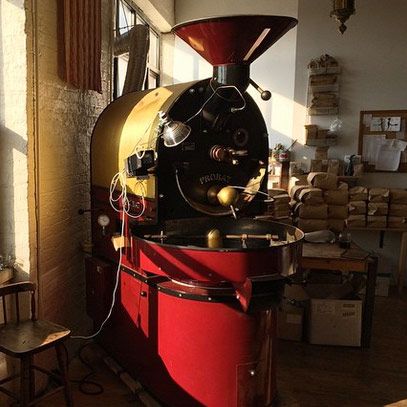 Impressive.
Photo: loftedcoffee/instagram
Weird spaces have become commonplace in New York: There's a gourmet doughnut shop inside the Westside Highway Car Wash, a bakery in the entrance hallway of an office building, and a bone-broth dispensary out of a takeout window. Add Lofted Coffee to the list: It's a coffee roaster inside a Bushwick loft that's not even 1,000 square feet.
Sprudge featured Lofted Coffee today, highlighting owners Tobin Polk and Lance Schnorenberg (who have worked at Stumptown, Espresso Vivace, and Culture Espresso). They can squeeze 2,000 pounds of green coffee into the loft, and roast about 100 pounds a week on the industrial-size Probat machine. What are you doing inside your studio apartment? Killing a succulent slowly?
Their Nordic-style coffee is currently available at shops like Búðin, Joe Pro Shop, and Box Kite, and Polk and Schnorenberg are working on a collaboration with Estela.
[Sprudge]