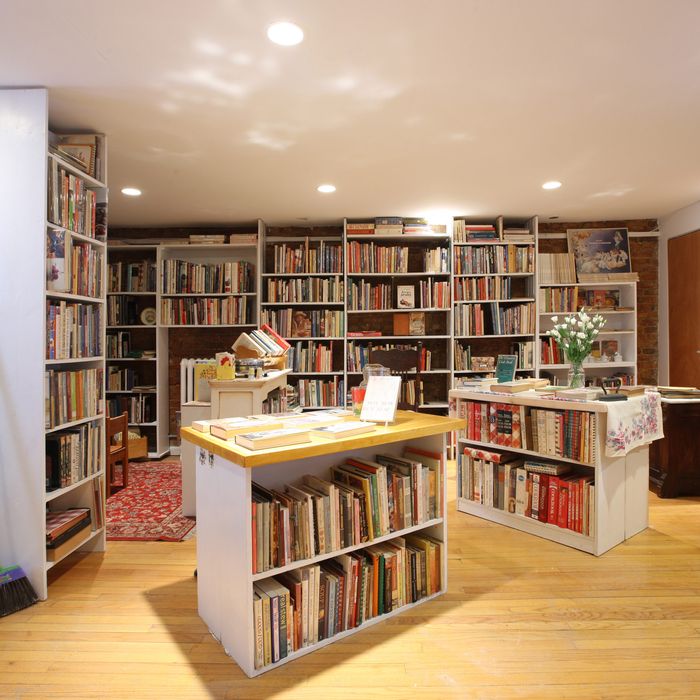 "I'm going to start restocking with a vengeance," Slotnick says.
Photo: Melissa Hom
When news broke in November that Bonnie Slotnick, the owner of the eponymous specialty bookstore in the West Village, lost her lease, New Yorkers were devastated. Fortunately, she's getting her happy ending: Yesterday, Slotnick reopened her cookbook shop in the East Village, and her new space is three times the size. More important, she has a great relationship with her landlords, whom she refers to as her "fairy-godparents." We called her up to chat about the changes and why the worst-case scenario for Slotnick became a dream come true.
How does it feel to officially reopen?
It's really exciting. Until just two or three days ago, this place was a total construction site. You could hardly see the floor. Just in the last couple days I managed to clean it up. And now I see what a big space it is, which is something I would've never said about my old store. I keep wanting to hold a square dance! It's about three times the space.
More books!
I haven't brought more new books yet, because I didn't want to move more books. But now I'm going to start restocking with a vengeance. There are a lot of people who I need to follow up with on offers to sell their books. There's even storage, so I can keep some of it behind the scenes.
How are you adjusting to the change in neighborhood? I know you both lived and worked in the West Village.
The vibe over here is completely different. It's like moving to another country, which is great because I tend to be a routine person. I had a five-minute walk between my apartment and my old store. I was pretty sick of it, to tell you the truth. Now, I walk a different way every day, and when the weather warms up, I'll start riding my bike.
One thing I really felt a disappearance of in my old neighborhood: My old standby deli had closed. It's now Toby's Estate Coffee. There was no place to get a sandwich for a couple of dollars. And here, there are multiple delis on every block, and all that they represent — which is that there are middle-class people living here.
Can you tell me the story of how the new space came about?
It was with the help of Garth Johnston, formerly of Gothamist. He and his sister, whose name is Margo, grew up in this 1830s row house. Their parents moved here, maybe in the '70s. They have a space in the garden level, which they rented as an apartment. For various reasons, they had to rent it to a commercial tenant. They saw online that I had lost my lease, and they called me and were bubbling over because they had a place for me. They said they'd make sure I could afford it, because they just wanted the right tenant.
I now have fairy-godparents who are half my age! They are so nice and so generous. Not only did they invite me to be their tenant, but over the past few weeks, they have given me all kinds of things that they found in the house, like four beautiful oak chairs. It's so nice to be in a place where the people who own the building want me here and care about me. It's the opposite of most New York landlord-tenant relationships.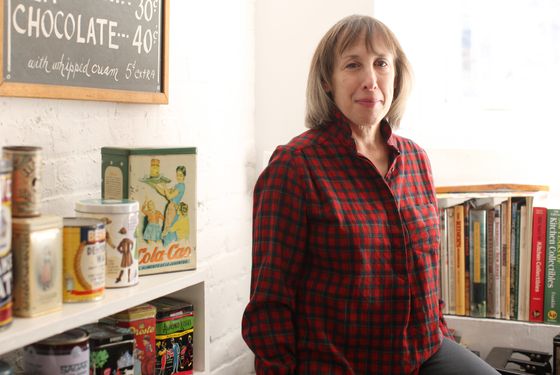 How long is your lease?
They offered me a ten-year lease, instead of a three-year lease, which I had been getting, and which caused me great anxiety. I don't know why my former landlord wouldn't give me a longer lease, but he wanted to keep his options open. And this year, he exercised his option not to renew.
It seems like this is a great fit for you. Are there any trade-offs?.
I miss having a display window, which I really enjoyed doing in my old store. I decorated for different holidays. I had a gay-pride window. It was a way of communicating with the neighbors and the people walking by. I do have to walk 15 minutes instead of 5. The entrance to my store was in an apartment building, so I got to know the people in the building, and it felt like a family house. But there's really no serious downside here.
And now you can spread out!
I can. I spoke to a friend who's a small-press printer and a book designer, and she wants to teach a class on hand-making books. In my old store, that never would have happened. I have an author who wants to have a book party here, and I've been contacted by local authors. I can host readings and book clubs. I actually have enough chairs — and a table! It's like that dream that I imagine most New Yorkers have: I open a door in my apartment and there's a whole other room, or a big other kitchen from the 1920s, and there's a balcony or something.
Do you know what's become of the old shop?
I just filmed a television segment on small businesses going under, and they filmed me in front of the old store. It no longer has any sign that I was ever there. I tucked some of my new business cards around the edges of the property — like those cards that advertise locksmiths. I had left a sign in the window, of course. My name was in the window in gold leaf, and I did take that down. I could imagine Marc Jacobs or Ralph Lauren moving in and making it the ye-olde bookstore and leaving my name up there. But they took off all my stickers on the door. I guess maybe they didn't want any sign of me. Who knows what they're asking for rent.
Bonnie Slotnick Cookbooks, 28 East 2nd Street, 212-989-8962