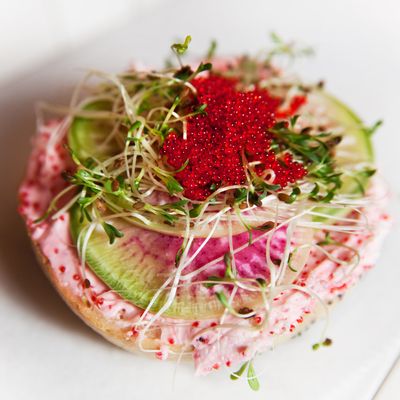 More of this, please.
Photo: Konstantin Sergeyev
This spring, Noah Bernamoff and Matt Kliegman will open a third outpost of their smash-hit bagel shop. The East Village location — at 176 First Avenue — will be full service and offer a bigger menu of bagel sandwiches, baked goods, and freshly squeezed juices (which cancel out all the carbs, because that's how science works).
Black Seed is once again enlisting hOmE's Evan and Oliver Haslegrave to design the space, which 110-year-old institution De Robertis Caffé previously occupied. The goal is to honor the iconic bakery's original design, and keep the tiled floor and walls and the pressed-tin ceiling.
This additional shop will actually have a big trickle-down impact: It'll allow Bernamoff and Kliegman to produce more bagels for wholesale purposes. Earlier this month, they started shipping nationally via FoodyDirect, and it won't be long until practically every breakfast spot and gourmet-food shop in the city sells their wood-fired bagels and beet-cured salmon, too.