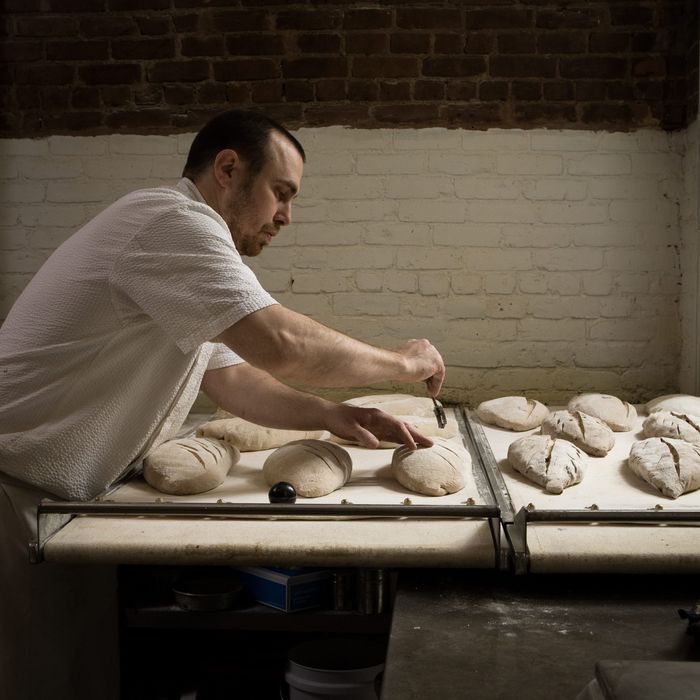 Owner Zachary Golper just got nominated for a James Beard Award.
Photo: Brian Kennedy
The career trajectory of a pastry chef is particularly tricky: As more restaurants phase out full dessert programs, there are fewer jobs available. Pastry chefs are generally paid less than what you might term "savory" chefs, and they're often required to work in less-than-stellar conditions — basements, corners, or wherever there's room, really — with tight budgets and understaffed teams. And while it's relatively easier for pastry cooks to get promoted, that also means that their careers plateau quicker. But if you've made it to the top of a restaurant's pastry hierarchy and you're not ready to become a business owner like Dominique Ansel or Christina Tosi, what's your next move? Interestingly, several fine-dining pastry chefs who faced this exact question have now landed at Bien Cuit in Boerum Hill.
Zachary Golper, who previously pioneered the bread program at Philadelphia's famed Le Bec-Fin, and his wife, Kate Wheatcroft, operate the small, three-year-old bakery on Smith Street, as well as its production kitchen in Sunset Park. But while the operation seems small, both its following and acclaim are truly outsized. Just yesterday, Golper was named a semifinalist for the James Beard Foundation's "Outstanding Baker" award — a brand-new category.
In fact, Golper and Wheatcroft have enough prominence in the industry at this point that staffers have left high-profile jobs at places like Jean Georges, Locanda Verde, and the NoMad to join the team. The main draw: Bien Cuit cultivates a relaxed, stable atmosphere, while also focusing on the kinds of serious baking techniques found in high-end restaurant kitchens.
Head baker Jacques Johnson — an alum of Dominique Ansel Bakery and Daniel — is Golper's newest hire. When Johnson worked at Daniel, he baked bread for five of Daniel Boulud's Dinex Group restaurants in one cramped pastry kitchen; it was so small that he'd worry about hitting his fellow cooks as he removed food from the ovens. Nina Thurston, Bien Cuit's sous-chef, worked in similar conditions at Locanda Verde. "You're overseeing the operations 24 hours a day, seven days a week, and you're treated like the redheaded stepchild," says Bien Cuit's executive chef Justin Binnie — formerly of Jean Georges.
Still, it wasn't an easy decision for Johnson to shift gears. "Leaving fine dining was hard because there's a certain level of discipline, and a mutual understanding with your crew as to what needs to be done, and the kind of standards that you're going to set," Johnson says. "But it's a double-edged sword because there's an awful lot of attitude … The world of baking is so much more egalitarian. You can address everyone by their names — not just, 'Yes, Chef.'"
Baking jobs, on the other hand, tend to provide a sense of much-needed stability and structure — a higher quality of life, for sure, but not necessarily more financially beneficial. "I've worked 20 hours straight, and then I've had to be back at work four hours from then," Johnson says of the fine-dining world. "If I walked home, I'd take off my shoes, put my shoes back on, and go back to work." He adds, "I'd make a hell of a lot in overtime … but I like seeing my friends and family on occasion." Kevin Scollo, who left the NoMad to join Bien Cuit as lead sous-chef, says that his incentive to leave fine dining wasn't monetary. "For anyone interested in pastry, they'd find the pay at both fine-dining restaurants and bakeries to be comparable," he says.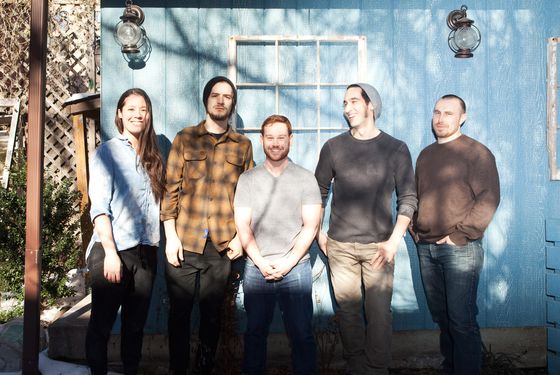 What makes Bien Cuit more appealing than, say, City Bakery is that Golper sources grains, butters, and fruits and nuts that are comparable in quality to the ingredients at the city's best restaurants. The bakers cite Bien Cuit's phenomenal bread and pastries as their primary motivation for leaving fine dining ("I was like, I have to learn how to make this," Binnie says). But they are also well aware of the dire state of their job market. "There's been a lull in pastry positions," Binnie says. "It's the short ladder: Once you get to pastry chef, that's it. It's hard to find something past that, so you see pastry chefs opening their own places and establishing themselves in different ways."
Even when opening a stand-alone bakery is within a pastry chef's reach, there are major concessions to make. Many cooks don't want to cut back on doing the creative, pleasurable part of their job in favor of managing people, filing profit-and-loss reports, and dealing with the Health Department. There's also pressure to constantly expand and innovate: This year, Ansel will open a bakery in Tokyo and introduce a West Village shop with made-to-order pastries. "It's almost less of a career plateau and more of a metamorphosis into being a micro-mogul, rather than continuing as a chef," Johnson says.
Scullo sums it up: "The space feels like home, but at the same time, it's still very focused. And I think that the products that chef Zach — or, sorry, Zach — puts out are really great."