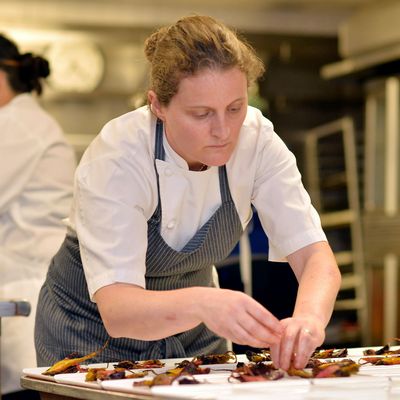 Bloomfield's one of the guests.
Photo: Dylan Rives/Getty Images
Here's an ideal Brooklyn collaboration: Berg'n, the Crown Heights beer and food hall, and Fort Greene's Greenlight Bookstore are teaming up to spotlight food-related books. Starting in April, Berg'n (and Brooklyn Flea and Smorgasburg) co-founder Eric Demby will host chefs like Eli and Max Sussman, April Bloomfield, and George Weld — all of whom will discuss their cookbooks with Demby in front of an audience, as well as prepare samples. Hooray, samples!
Tickets cost around $30 (which includes a copy of the book and an appetizer), and are available here. Grub suggests that you mark your calendar for April 20, when April Bloomfield will discuss A Girl and Her Greens.