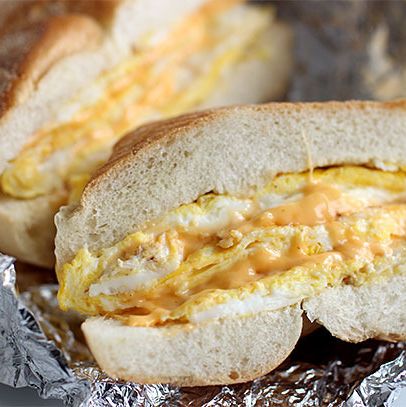 All the time.
Photo: Melissa Hom
If an all-broth takeout window can become a phenomenon, this should work, too. DNAinfo brings word of BEC, an upcoming shop that will specialize in breakfast sandwiches. (The initials look to stand for bacon, egg, and cheese.) This is welcome news since breakfast sandwiches are one of man's greatest achievements and all is right in the world whenever you're eating one, except for those times you're eating one to fight a hangover, which come to think of it might be most of the times. No matter — they're still great.
The shop will be located at 148 Eighth Avenue and the plan is for it to stay open late (proposed hours are 7 a.m. to 2 a.m.). Also important: The owner — who is pretty awesomely named Jessica Bologna — has applied for a license to serve alcohol. And, because it is the year 2015, BEC won't just turn out run-of-the-mill deli-style sandwiches. Instead its $7 namesake sandwich will reportedly arrive on custom-baked brioche; a "Farmhouse" option might include honey, pancetta, and fig jam; and the "Greeky Roman" pairs lamb sausage with feta cheese.
If they have pork roll, Grub Street will really be onboard.
[DNAinfo]