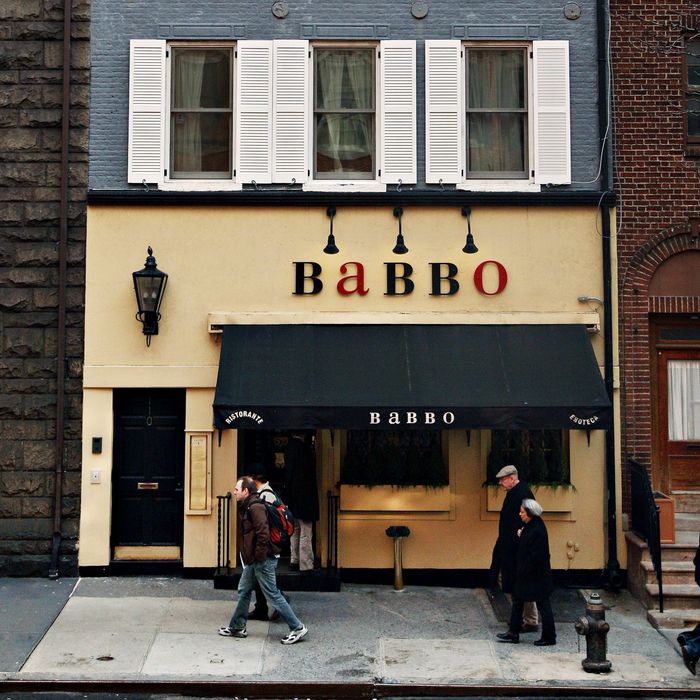 Time to consider soundproofing the brownstone's walls?
Photo: Daniel Acker/Bloomberg News
A Manhattan judge ruled today that Mario Batali and his partners can keep Babbo open while a case against the restaurant continues to move through the legal system. Last year, Babbo neighbor Nurretin Akgul, sued the restaurant for $10 million, claiming that Babbo's owners hadn't complied with an agreement to insulate new air conditioners or vent cooking smells that allegedly waft into Akgul's home.
Manhattan Supreme Court Justice Cythnia Kern, however, refused to grant a preliminary junction that would've closed the restaurant and put 100 people out of work because she says there's no sign that Babbo's exhaust system is illegal, or that Akgul's case even has a "likelihood of success."
Neither bodes that well for the plaintiff moving forward. All the same, he made sure to get his side before the court of public opinion, telling the Daily News after the ruling: "There used to be birds in the backyard. Now it's like living next to an airport." While the case will continue, both sides have noted provisionally that they'd be open to hiring "a mutually agreed upon" expert to measure the roof's noise levels.
[NYDN]