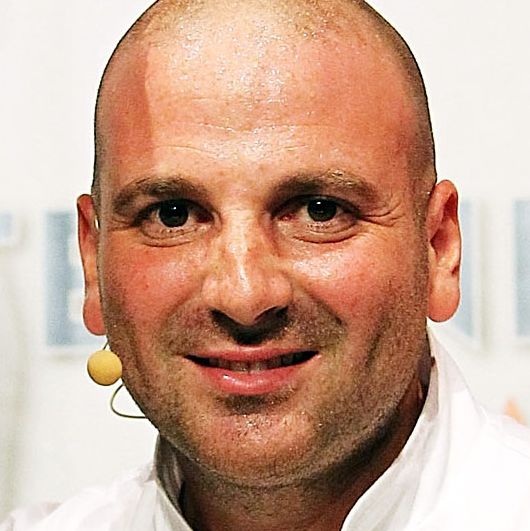 He says please sign for that leftover tzatziki.
Photo: Graham Denholm/Getty Images
MasterChef Australia judge George Calambaris seems to be the latest and most high-profile chef Down Under to take steps that will discourage customers who get sick on spoiled leftovers from blaming the restaurant. Ask for a doggy bag at his Hellenic Republic restaurants, and the server will say of course — as soon as you sign this waiver declaring they're not responsible if you subsequently get sick later on when you reheat it.
That above form is the one given to a customer named Ross Katsambanis, who said he wanted to box up the meat and dips left over from his grandparents'$2 50th wedding anniversary banquet. Katsambanis says the form was "just bizarre," since "There's no chance I was going to sue them."
But the head of Australia's restaurant association says eateries are increasingly being sued by people who get sick from food consumed at home. As a rep for Hellenic Republic tells the Mail, "We don't really know how they're going to store the food. It's kind of out of our hands what the customer does … after they leave the venue." She says waivers supposedly function to firmly remind customers to act "in their best interests" regarding food safety, and while that nanny-style reminder doesn't look like it's migrated here yet, no one loves suing more than American consumers, so those indemnity-free days might be numbered.