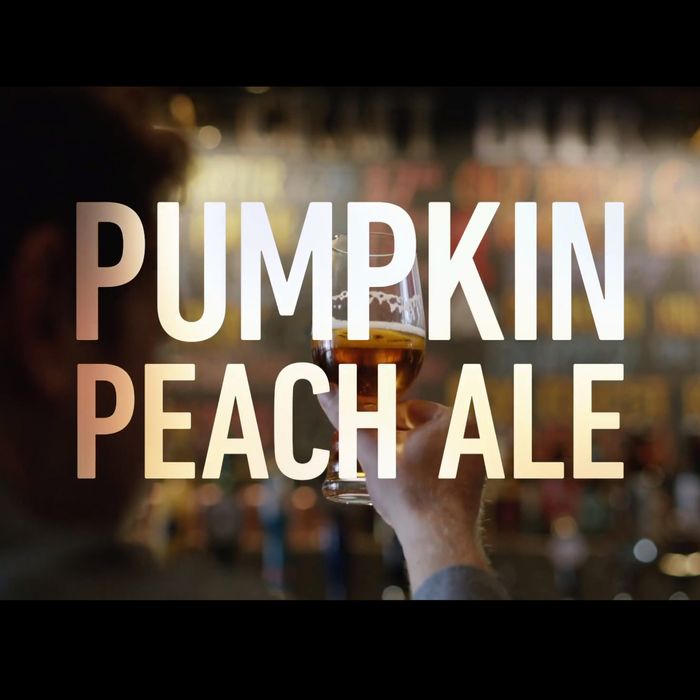 During last night's Super Bowl, Budweiser managed to annoy most craft-beer drinkers with its "Brewed the Hard Way" ad, which declared Bud to be "proudly a macro beer" that's "not brewed to be fussed over." The spot also took shots at people who prefer beer that actually tastes good, portrayed in the ad as handlebar-mustachioed hipster snobs, whom the on-screen text suggests would be better off sipping their "pumpkin peach ale."
The ad seems pretty clear-cut. But Budwesier VP Brian Perkins tells Ad Age this isn't meant as an "attack on craft beer," per se, or "an attack on competition," since the "only other beer that we reference in the spot is a fabricated, ludicrous flavor combination of pumpkin peach ale."
Except, well, maybe the flavor isn't that ludicrous. If Budweiser execs had asked around their own company, they would've learned that Elysian Brewing, which Bud parent Anheuser-Busch just bought, brewed a beer this fall called "Gourdgia on my Mind" (among many other pumpkin beers). Here's how RateBeer describes Gourdgia:
Peach Pecan Pumpkin Amber Brewed with Pale, Munich, TF Amber, pale chocolate, & brown malt. Pecan meal added to the mash, bittered with Magnum hops, 6 gallons of karo syrup added to the kettle, cinnamon in the whirlpool and 126 pounds of peach purée added during fermentation.
So, hey, let those craft-beer snobs drink this stuff from their tiny tasting glasses. Or let the masses drink Budweiser's macro swill. Either way, Anheuser-Busch gets paid.