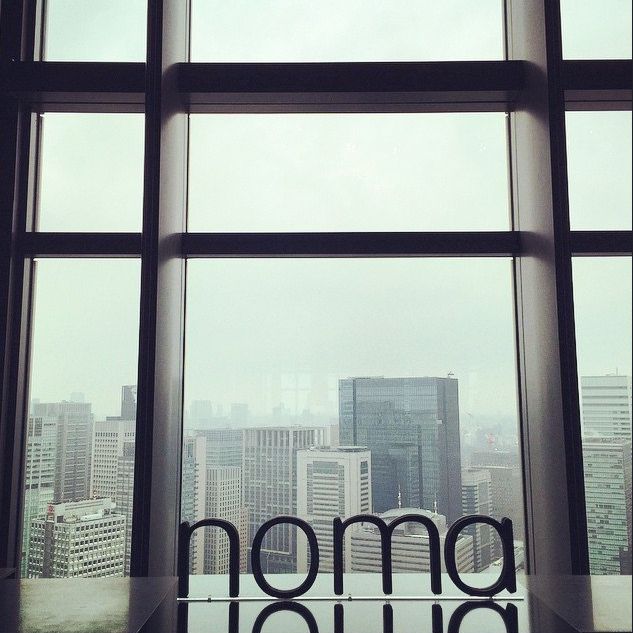 René Redzepi would prefer you didn't call it a "pop-up."
Photo: Phillip Lai/Flickr
It turns out that Rene Redzepi doesn't much care for the term "pop-up." The chef of Noma — the perennial "No. 1" restaurant in the world — considers his theatrical, much-hyped, endlessly Instagrammed residency in Tokyo to be a "restaurant internship," he says. "And what better place to study than in a great food culture which dwarfs your own?" The chef is standing at the pass between the kitchen and the slightly drab-looking dining room, which is situated 37 floors up in the air, off the glittering lobby of the Mandarin Oriental Hotel among the towers of Tokyo's financial district. He's soft-spoken and wears a little scruff of a beard. Surrounded by giant, bewhiskered cooks, many of whom sport sailor's tattoos and are barking commands into the kitchen, he looks a little like the calm, diminutive captain on the bridge of a very civilized Nordic submarine.
Redzepi's Tokyo internship ends this week after a sold-out month-and-a-half-long run. Tickets were hard to come by (the wait list was famously 60,000 names long), but for the occasional professional glutton who comes through town, the staff set up a single place setting at the side of the pass, next to the dessert station, which is manned by a cheerful woman from Copenhagen named Mette. Propped on a little stool, you can feel the heat of the kitchen at your back and instead of waiters, the dishes are served by the cooks, and sometimes by Redzepi himself, who stops by for the occasional chat.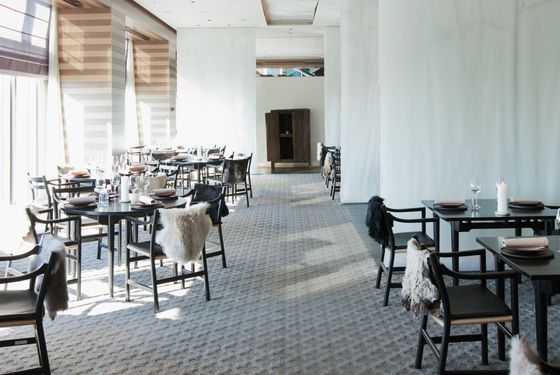 The first dish of my meal, late last week, was a bowl of slightly bitter strawberries, followed by a stunned, still-wriggling (and curiously waxy tasting) Hokkaido shrimp dotted with ants, which one of the chefs tells me were foraged "by this cool ant dude in Nagano." The ants are supposed to give the dish a little acidity, but don't taste much like anything at all, and they're followed by a decorative creation that looks like loops of orange ribbon candy, but turns out to be thin bands of shaved monkfish liver, which taste icy, salty and faintly primal, like they've just been hauled directly from some freezing Arctic sea.
Primal is Redzepi's favorite flavor profile, of course, and to ensure that he captures it for this discerning Tokyo audience, he's imported a 75-person team from Copenhagen, right down to the dishwashers who clean all of the carefully carved and curated flatware by hand. As the strange dishes clatter down on my little table, the cooks regale me with tales of their magical encounters with master foragers in the mountain valleys and hobbit forests of Japan. The monkfish liver comes from the only female fish monger in Tokyo's famous Tsukiji market; the wild ants come from Nagano. Redzepi says he's found the diverse local palate both liberating and a little intimidating. "We didn't want to act like a bunch of visiting tourists. We wanted to cook for the Japanese." He adds, "In the west, if you put ants on the menu — people go insane. Here it's no big deal."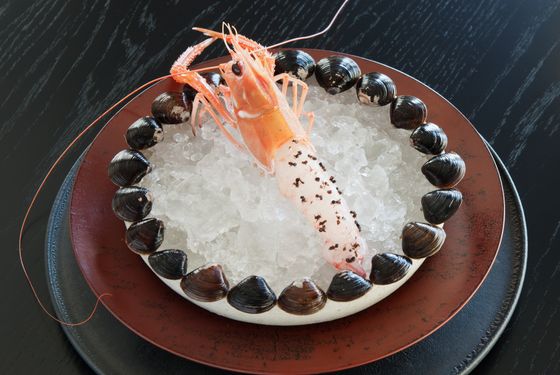 The local reaction to the Noma experiment has ranged from the politely rhapsodic (Masuhiro Yamamoto, the critic who's credited with "discovering" the sushi master Jiro, has visited five times) to the politely confused ("Lovely wine, excellent service, and I love the main course," one grizzled local gourmet told me, "but I don't understand why people are coming all the way to eat that food"). At least one of Jiro's sons has been by for dinner, and was polite about the experience in that hyper-serious Jiro way. Redzepi has, in turn, stopped by Jiro's sushi counter, but when I ask the chef to describe his favorite restaurant in Tokyo, he gives a happy shrug. "In Copenhagen there are several places that everyone knows about. In New York, everyone knows everything that's good. But not here. In Tokyo there are a thousand things to discover." If he had to choose one place discover again and again, it would be the famous Tsukiji fish market: "For a chef like me it's like seeing the pyramids. You go at 4 a.m. for the omakase sushi. You say hello to all the animals. You watch the octopus change color, then you have a bowl of ramen at 9 a.m. It's the perfect day!"
After the monkfish I taste a few tiny segments of Japanese citrus dressed in a rich herb sauce, followed by strips of deliciously waxy fermented cuttlefish served on a bamboo tray. I'm instructed to dip the strands of cuttlefish like soba noodles into a bowl of pine dash with rose petals that were hand-picked by a rose guru Redzepi met in Okinawa. They give the squid a perfumed, slightly vegetal note as it slips down the back of your throat. Next is a slip of tart served on a rolled-up napkin the color of old hay. The thin crust is flecked with seaweed and decked with rows of laboriously picked freshwater clams from another magical sounding sounding lake, the name of which I immediately forget. Soon, course after course appears in a kind of convivial, Lost in Translation daze. Is this polished, consistently interesting food worth flying halfway around the world for? If you happen to be sitting in the staid, slightly corporate dining room, possibly not. But here on the edge of the kitchen heat, watching the choreography of the meal unfold, you feel caught up in a truly original event, one that's part gourmet dining and part ethereal, zany performance art.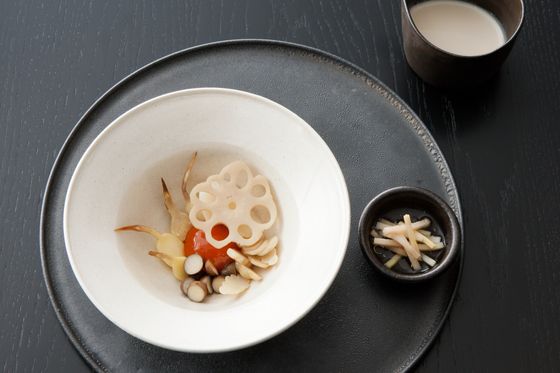 There are fiery orange segments of sea urchin wrapped in steamed cabbage, delicious slices of "hakkori" pumpkin paired with salty spoonfuls of Fukuoka caviar, and a magically strange substance which the chefs call "scallop fudge," made from foraged beech nuts, kelp, and dehydrated scallops (delicious). The main course is a roasted wild duck, caught according to ancient custom, using nets in the marshlands of Akita province, which is just south of Hokkaido. The duck is soaked in barley and mushrooms for days, grilled, then cut into rich, livery slices, plated with a single gnarled claw and a bisected head. Redzepi says it's the only dish that has been regularly sent back to the kitchen, usually by Chinese guests who are used to Peking duck, which is crisp, fatty, farm-raised, and cooked through.
The chef doesn't appear to be bothered by these little cultural glitches. In fact, he seems to welcome them. This isn't a standard restaurant dinner, after all. It's a spontaneous, highly subjective taste map more or less of an entire country, refracted, through the highly particular sensibility of one man, who like all visitors to Japan, is just passing through. After the last service this weekend, Redzepi and his cavalcade of foragers and cooks will be going to Kyoto for three days of rest and relaxation, before returning to home to Copenhagen. He says he's learned a good deal from his extended stay in Tokyo, about sourcing and portion size (smaller is better) and the value of relationships as opposed to the usual "transactional" way of doing business in the west. On a more personal level, he's done what he intended to do when the idea for this extended, madcap project first popped into his head. "I wanted to start thinking again," he says. "I wanted to shake things up."
After the duck, the pastry chef, who has what looks like a leafy pear tattooed on the inside of her arm, presents me with a fruity paste made of black garlic, shaped into the pattern of a forest leaf. "It's our interpretation of origami," she says. It's savory, fruity, with a hint of acid supplied, once again, by those famous Nagano ants. There's a segment of sweet potato after that, which has been bubbled in sugar all day and which I'm instructed to dip in a brackish green substance called "wild kiwi sauce," and an elegant scoop of lightly melting ice cream made of sake lees, set on a hidden pedestal of chewy sweet sticky rice. The last thing I remember, before staggering from the kitchen, is a slip of cep mushroom, covered in chocolate, served on a bed of moss, which has been fermented in salt and soaked in birch syrup. Next to the mushroom is a scraggly looking twig, which, even floating up high in this strange dining room, surrounded by bustling cooks and mannered diners sipping glasses of turnip juice, has an ancient, wild, cinnamon-y taste, like it was plucked from a tree just moments earlier, in some distant Japanese forest.