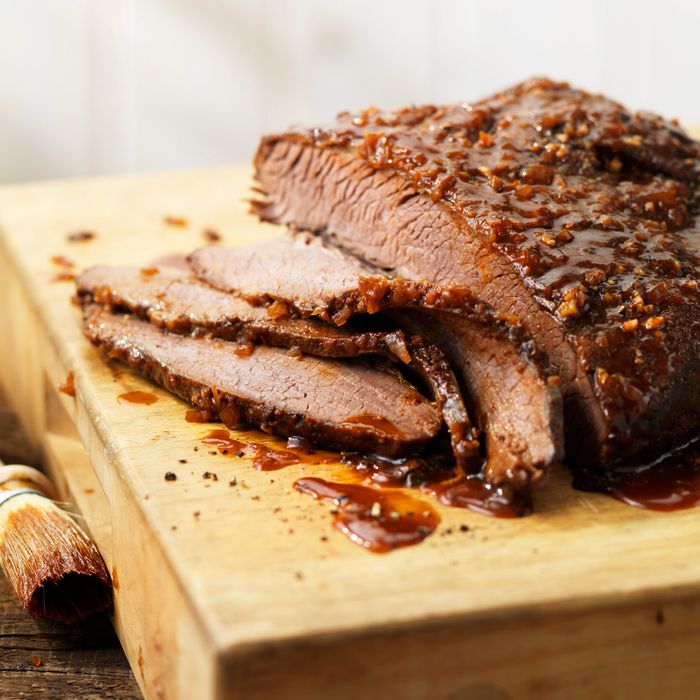 Slice it up, then lock it down.
Photo: The Food Passionates/Corbis
Truly, these are desperate times for brisket lovers: Costs are skyrocketing, beef experts admit it'll be another "three or four years" before that travesty corrects itself, and The Wall Street Journal today has it the stuff's popularity is still so dismayingly high that America is at its brisket breaking point — and desperate barbecue fiends might soon be left with little choice but to just steal the stuff right off people's pits.
As it happens, that's exactly what a "brisket bandit" in Texas is doing. Police are telling barbecue joints in the central part of the state to, ahem, beef up their security and install surveillance cameras in order to protect their valuables from some unknown pro who's picking padlocks in the dead of night and wheeling out as much as six duffel bags of meat in 20 minutes.
At least three spots have been plundered so far, and the bandit hit one for a whopping $2,500 worth of brisket. Another owner turned a machete over to police. Obviously we know what desperate times call for, though this guy's going a step beyond his predecessor who shoplifted carts of supermarket brisket to sell on what's apparently become a thriving black market. As one pitmaster tells The Wall Street Journal about the meat, "It's gold now."