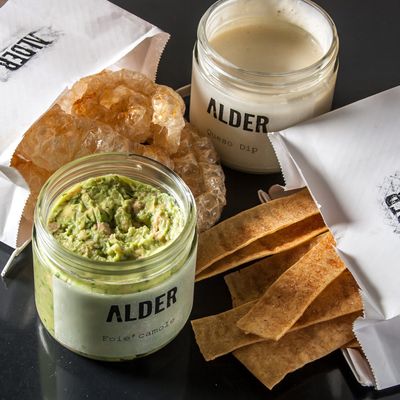 The combo deal will be sold to-go.
Photo: Paul Wagtouicz
It should come as no surprise that after mastering the pizza bagel, the pig in a blanket, and, recently, the cheeseburger, Wylie Dufresne isn't exactly a slouch in the Supe Bowl foods department. To prove it, he's offering a $50 snack pack for pickup from Alder on February 1 (48-hour advance notice required). Here's what you get: one bag of housemade tomato-powder-dusted masa chips to go with a Skippy-peanut-butter-size jar of "foie'camole" (two parts avocado to one part foie gras terrine), plus another bag of pimenton chicharrones accompanied by a jar of beer-cheese. That last item is made with green chiles and Greenport Harbor's pale ale, and, like a tub of Tostitos nacho cheese dip, is microwavable. If football's not your thing, we imagine that all this stuff would go just as well with a glass of claret and an episode of Downton Abbey.