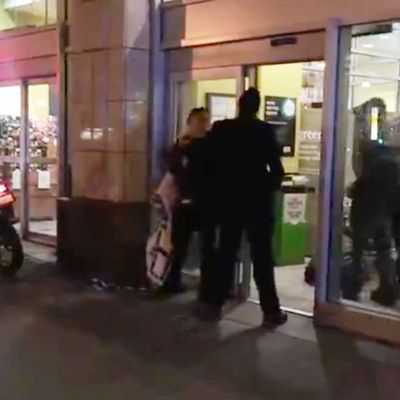 The image quality is poor and the details are scarce, but this video depicts employees at the Union Square Whole Foods in Manhattan confronting, punching, and kicking a man inside the store's entrance and then on the sidewalk. The incident occurred on the night of December 30.
The five-minute video begins with the unidentified man being forcefully ejected from the store. Employees and security personnel enter and exit the store, which was reportedly closed at the time, throughout its duration. "You want to be a fucking tough guy? Get the fuck out of here," one says.
"I'm a veteran. Don't do that," the man replies, as he gets up off the sidewalk and tries to enter the store again. It just gets worse from there.
A representative for the grocer tells Grub Street that it is investigating the altercation, and has placed those whom they know to have been involved on "administrative leave" in the meantime. The grocery chain's statement continues:
Whole Foods Market is aware of the incident that took place in front of our Union Square store after hours on December 30th. The team members identified so far in the video have been placed on administrative leave while we complete our internal investigation. We take all incidents involving team members, customers and members of our community seriously and consider safety and security a top priority.
[LiveLeak]