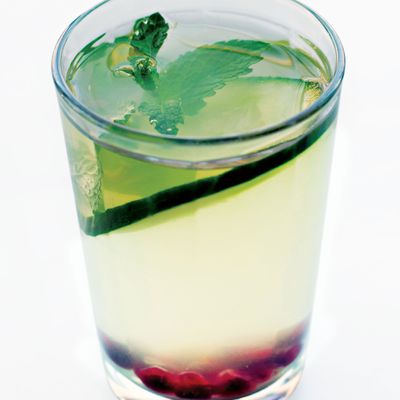 Smith Canteen's infused whey.
Photo: Gabrielle Plucknette/New York Magazine
Unless you're a bodybuilder or dedicated juicer, you likely have no use for whey or its processed-supplement form, whey protein. A handful of chefs and artisanal-yogurt-makers are trying to change that. Whey is the liquid remains of both cheesemaking and traditional yogurt-making—what's left in the vat after the curds have been separated or the yogurt has been strained—and over the past few years, it's become something of a dirty little secret for New York State's booming yogurt industry. If disposed of carelessly, yogurt's acid whey fosters algae growth, ultimately depleting waterways of oxygen and decimating fish populations. Some large manufacturers pay farmers to take it off their hands and mix into animal feed. As a human food, though, it's increasingly regarded by certain segments of the crunchy-granola crowd as a health tonic, low in calories but high in probiotics and calcium.
It's no wonder, then, that whey has become a buzzword among the sustainable-minded set, who see drinking the stuff as good for the body and the planet. Two Brooklyn-based yogurt-makers now market their leftover whey: Sohha Savory Yogurt doctors its remnants with lemon juice and sweeteners and brands it as whey lemonade, and Homa Dashtaki, of White Moustache, has sold hers unvarnished in liter bottles and five-gallon buckets meant for brining poultry. (Dashtaki is so committed to finding outlets for her hydrating "yogurt water" she's designated an employee unofficial whey czar, tasked with reaching out to restaurants and experimenting with recipes for everything from pasta to poached fish. This month, the company will begin supplying 16-ounce glass jars of ginger and honey-lime-flavored whey to Whole Foods and other markets.) Local chefs have been likewise inspired. At Smith Canteen in Carroll Gardens, Rob Newton has begun infusing White Moustache whey with cucumber, ginger, and mint and garnishing it with pomegranate seeds. El Rey Coffee Bar & Luncheonette's Gerardo Gonzalez comes by his supply from in-house ricotta production–something of a role reversal, since ricotta, which means recooked, was traditionally made from leftover whey, not the fresh milk and cream some use today.) Gonzalez has deployed his whey to render grits especially creamy and tangy and currently uses the liquid in drink specials like a carbonated Creamsicle and a fennel soda flavored with tarragon and star anise. And at Semilla in Williamsburg, partner Pam Yung lacto-ferments the whey by-product of her housemade kefir and yogurt, incorporates it into date and grapefruit-rosemary sodas, and sometimes uses it to bake her exceptional loaves of whole-grain bread. Yung credits San Francisco's visionary Bar Tartine as her inspiration, a restaurant so evolved in its approach to whey it turns it into caramel—the proverbial spoonful of sugar to make the medicine go down.
*This article appears in the January 12, 2014 issue of New York Magazine.