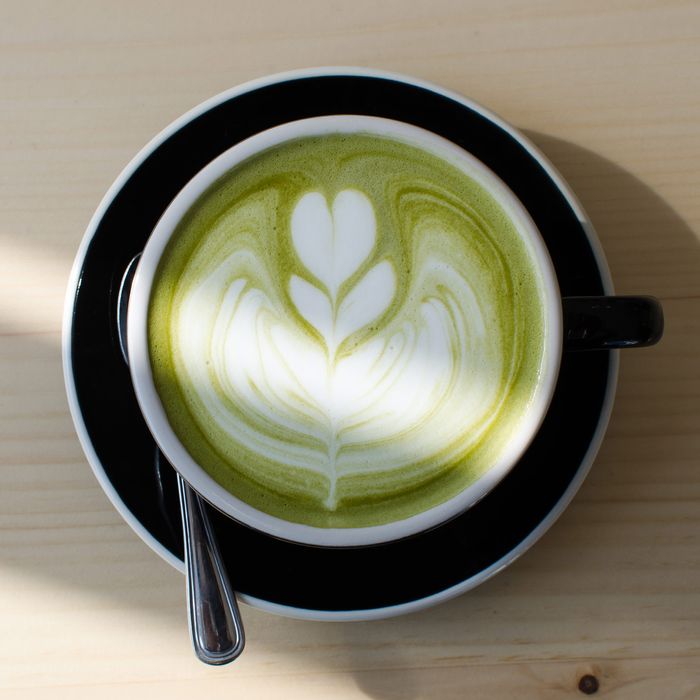 Chalait's matcha latte.
Photo: Courtesy of Chalait
Matcha, or finely ground powder made from green-tea leaves, is obviously not new. In fact, it's literally ancient — and in New York, it's been available in select tea shops and Japanese and Chinese restaurants for quite some time. Traditionally, matcha requires a slow preparation process: The powder gets placed in a shallow bowl, combined with hot (but not boiling) water, and then whisked so that there are no clumps left behind. The result is a concentrated, electric green-tea that's super-healthy as well as highly caffeinated. It tastes great on its own, but it's lovely when mixed with steamed milk to make a latte — and you can also cook with it.
Now there are several new places dedicated to the beverage (Chalait in the West Village, MatchaBar in Williamsburg), and popular coffee shops like Ground Support and Jack's Stir Brew have even added matcha drinks to their menus. Momofuku Ko uses it in a savory mille-feuille, Morgenstern's and Victory Garden both serve matcha-pistachio ice cream, and Café Clover makes a matcha cocktail. Here's where you can find matcha in New York right now — as well as how to purchase the powder if you want to whisk it up at home.
To Drink:
Voilà Chocolat
What: Matcha Hot Chocolate
Price: $4.85
This new Upper West Side bakery, which opened in December, takes its craft quite seriously: Staffers include a master chocolatier and a "senior chocolate scientist." This drink combines green-tea powder with a white-chocolate base.
Café Clover
What: Harajuku Gimlet With Matcha
Price: $15
At this new, health-focused West Village restaurant, one cocktail includes matcha powder — which serves as a nice balance to the housemade yuzu.
MatchaBar
What: Iced Matcha
Price: $3.80
But it's Williamsburg's MatchaBar that has bragging rights to being New York's (and possibly America's) first matcha-focused café. Owners Max and Graham Fortgang import their matcha directly from farms in Nishio, Japan.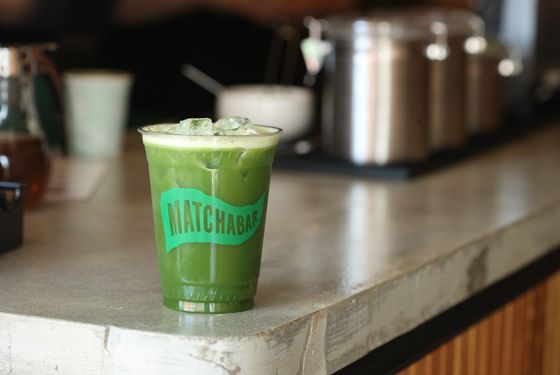 Maman
What: Matcha Almond Latte
Price: $5
The Soho bakery made famous by its truly excellent chocolate-chip cookie recently started serving a matcha drink, and soon baker and co-owner Elisa Marshall will introduce matcha pastries.
Chalait
What: Matcha Americano
Price: $3.75
A new West Village café focuses on matcha-green-tea beverages, which means you can order matcha just like you do coffee: as a latte, Americano, cortado, or shot. There's also matcha hot chocolate, iced tea, and a matcha-cocount-jam croissant.
Ground Support
What: Matcha Latte
Price: $5.25
New to the menu at this popular West Broadway coffee shop is a traditional matcha latte, with no sweetener and the milk of your choice — but the baristas recommend almond milk. In the warmer months, there's even an Iced Matcha Arnold Palmer, mixed with lemonade, of course.
Cha-An
What: Ceremonial Matcha
Price: $12
In terms of quality, it's hard to top Cha-An: The East Village establishment serves traditional matcha — whisked into a shallow bowl at water heated to 175 degrees. You can also get it as a latte, but here it's best to taste the powder in its purest form.
Jack's Stir Brew
What: Green Hornet
Price: $6.95
Matcha green-tea, honey, milk, and ice all get blended together for a drink that's particularly refreshing in the warmer months.
Matcha Cafe Wabi
What: Matcha Latte
Price: $4.25
This matcha café opened on 4th Street right after Christmas, and its most popular item is a particularly rich version of a matcha latte made with a heavy cream base, Uji Matcha powder, milk, and homemade simple syrup.
To Eat:
The Dessert Club by ChikaLicious
What: Green-Tea Brownie-Nut Custard
Price: $9
The West Village location of the parlor offers an array of green-tea desserts, like a crêpe cake with green-tea whipped cream, green-tea glaze, and yuzu sauce. There's also green-tea soft-serve with green-tea crumble on top, and this warm brownie sundae with that same soft-serve, plus roasted nuts.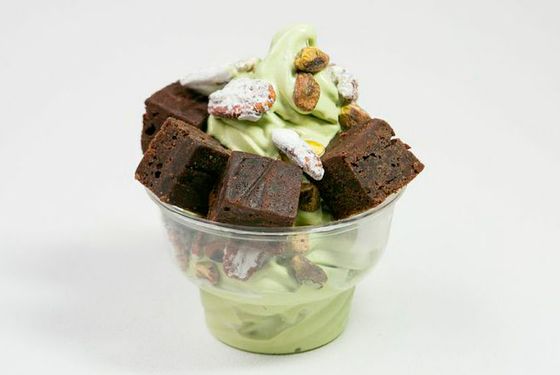 Annisa
What: Matcha Panna-Cotta
Price: $12
Anita Lo serves not one but two matcha dishes: matcha-and-wattleseed ice cream (the Australian wattleseed is used as a spice because it has a similar flavor profile to chocolate, hazelnut, and coffee), and a savory panna-cotta with house-smoked American sturgeon caviar, popped rice, and barley.
Victory Garden
What: Matcha-Pistachio Goat's-Milk Soft-Serve
Price: $4
Sophia Brittan has recently added this new flavor to her menu — and she's also going to unveil matcha cookies.
Morgenstern's
What: Green-Tea-Pistachio Ice Cream
Price: $4
The pairing of green tea and pistachio is quite popular: This is one of the only flavors at Morgenstern's that's always on the menu — it's that good.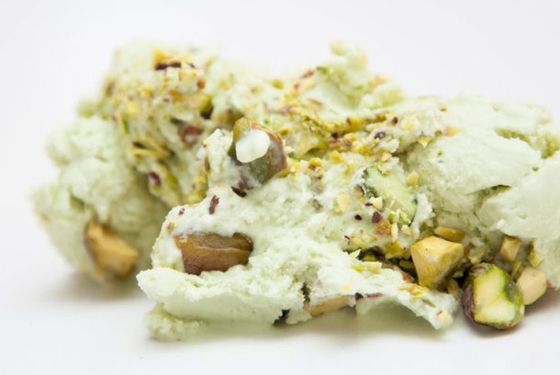 Bien Cuit
What: Bamboo Cake
Price: $27
The beloved Boerum Hill bakery sells a dessert that's comprised of matcha sable, matcha sponge cake, yogurt-lychee mousse, rosewater syrup, white chocolate, and shaved pistachios.
Stick With Me Sweets
What: Matcha-Chocolate Bonbon
Price: $3.40
Of the 24 flavors of bonbons at this former Per Se chocolatier's new shop, the white-chocolate-based matcha option is a strong choice.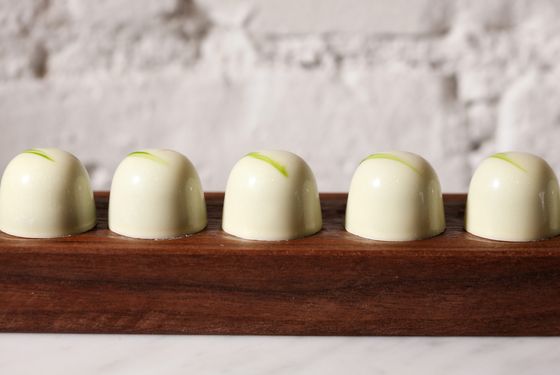 Contra
What: Monkfish Dusted With Matcha
Price: Part of a $55 tasting
Monkfish gets roasted on the bone, dusted with matcha and seaweed powder, and then topped with roasted celeriac, horseradish, and a roasted-fish-bone sauce.
Momofuku Ko
What: Mille-feuille
Price: Part of a $175 tasting
This mille-feuille is served as one of the canapés at the beginning of the meal. Chef Sean Gray makes his own puff pastry using rye flour, and between each layer lies béchamel sauce, trout roe, and yuzukoshō. He dusts matcha over the top layer of the mille-feuille.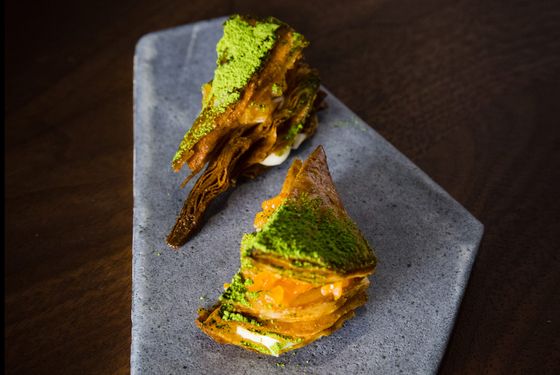 To Purchase:
Panatea
Price: $59
Panatea's matcha is used all around New York, at places like the Fat Radish, Maman, Momofuku Ko, and the Butcher's Daughter.
Ippodo Tea
Price: $100
Ipoddo Tea — not be confused with the ramen establishment — opened its first storefront outside Japan on 39th Street in April 2013. There's a to-go menu that includes something called a "matcha slushy," and the starter kit includes a bamboo whisk, tea ladle, bowl, bilingual Japanese-English guide, and 20 grams of powder.
Bosie Tea Parlor
Price: $70
This West Village tea room makes one of the finest matcha lattes, whisking the powder in front of your eyes and combining it with almond milk and a light sweetener. The shop also sells a matcha kit, and if you ask nicely, one of the baristas will surely give you a walk-through before sending you home.