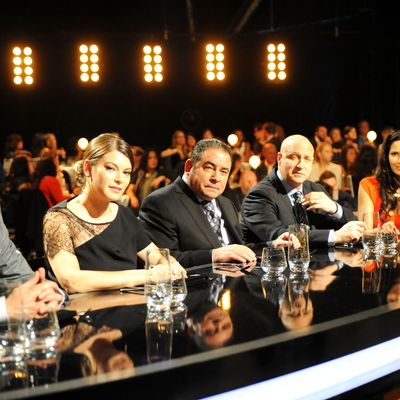 Nashville is among the cities where aspiring culinary masters can meet producers.
Photo: David Moir/Bravo
Top Chef isn't dead yet. Despite a seeming drought of telegenic culinary talent and the advent of Best New Restaurant, the Bravo franchise scored a season high of 1.9 million viewers earlier this month. Whether you've been watching or not, the show will now ramble on to a 13th season, which some are speculating will take place in Nashville. The Tennessee city is where the first open casting day is taking place next Tuesday, a day before the season 12 finale.
This would seem to make sense: The event is happening at Adele's, Jonathan Waxman's new restaurant. Waxman and Sean Brock are both relatively new restaurateurs in town, and both have guest-judged episodes of Top Chef. New Orleans chef Donald Link, another guest star, is opening in Nashville this year, along with Richard Blais, who'll open near Sinema, which is run by Dale Levitski, another of the show's alumni. Here are the other cities and venues hosting calls:
Nashville: Tuesday, February 3,10 a.m. to 12 p.m.
Adele's - 1210 McGavock Street
Nashville, TN 37203
Seattle: Tuesday, February 3,10 a.m. to 12 p.m.
Canlis - 2576 Aurora Avenue North
Seattle, WA 98109
Chicago: Tuesday, February 10, 10 a.m. to 12 p.m.
Trenchermen - 2039 W. North Ave.
Chicago, IL 60647
Brooklyn: Tuesday, February 10, 10 a.m. to 12 p.m.
Talde - 369 7th Avenue,
Brooklyn, NY 11215
Los Angeles: Tuesday, February 17, 10 a.m. to 12 p.m.
Scarpetta - 225 North Canon Drive
Beverly Hills, CA 90210
As always, hopefuls can also submit an application online.