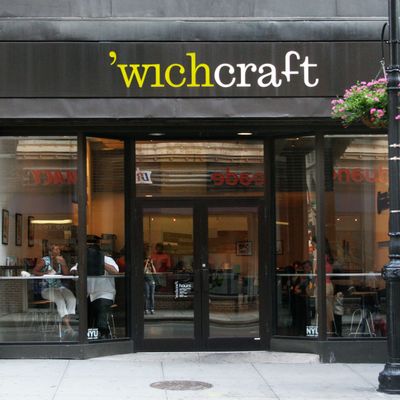 Bad news for the Top Chef.
Photo: Shanna Ravindra
Two female delivery workers at the East Village 'wichcraft have filed a lawsuit claiming the Top Chef's company violated both federal and state labor laws by paying them less than minimum wage, denying overtime, and docking their tips. They say the chain has a policy that employees must launder their own uniforms and otherwise requires workers to change in and out of work clothes off the clock, costing them up to half an hour's pay every time, according to the suit.
The plaintiffs — reportedly the only two deliverywomen at that shop — also allege sexual harassment, saying the work environment is more like a horrible fraternity vibe: Legal documents allege the supervisor routinely called them "bitch" and "whore." One of them says she was filmed while changing clothes in the employees' locker room, and that management "advised" her against involving the police before destroying evidence of her co-worker's voyeurism. Colicchio tells the Post they'll "respond accordingly" once they investigate the allegations.
[Page Six]