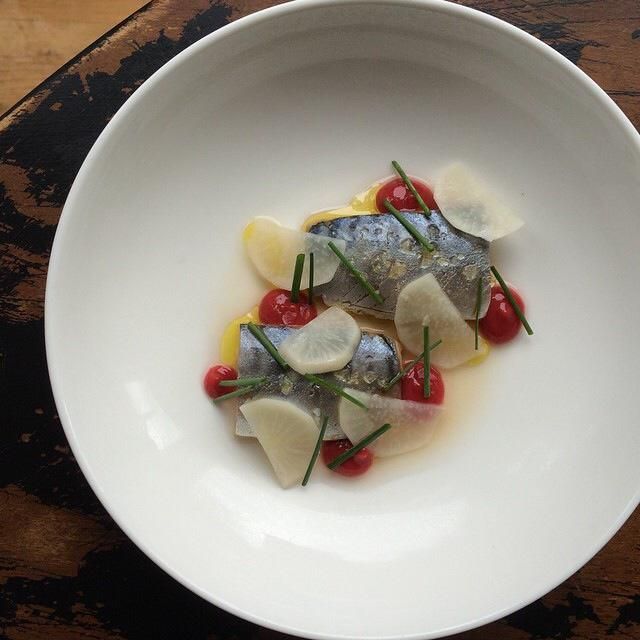 It all starts February 5.
Photo: Courtesy of Thirty Acres.
Over at Thirty Acres in Jersey City, chef Kevin Pemoulie and wife/co-proprietor Alex have announced their acclaimed, nearly three-year-old Jersey City restaurant will drop à la carte service altogether and switch to a tasting menu format beginning February 5. The new menu will encompass full-fledged meat, fish, and pasta courses, so don't expect a marathon meal of 30-something one-bites like the ones you'd strap in for at Blanca or Atera. A beverage pairing will run $55 extra, and a small menu of à la carte snacks will be available at the eight-seat bar. Reservations are already live.
"We just don't want people to say, 'Oh, Thirty Acres is now a fancy restaurant,'" Kevin Pemouile says, explaining that the changes are meant to streamline the ordering process he says has at times alienated customers. As such, the five-course, $75 menu now includes canapés, which are "always great, always awesome" to get, Pemoulie says, and a few other extras, but otherwise the plan was to remove some guesswork from the old menu format. The shift of gears may coincide with a slight shift of recurring ingredients, says Pemoulie, who adds he may dispatch some of the Japanese-leaning aspects of his food. "I'm trying to abandon some of those flavor profiles," he says. As of now, he will only confirm that black truffles will make an appearance on Thirty Acres' first tasting menu.
Other than that, expect more seasonal, local food from the kitchen David Chang wrote would "get national attention" were it open in New York City. Bona fide desserts are also in store, seemingly leaving the fate of the "Kevin's Mom's" lemon — the restaurant's only regular menu item since opening — in the balance. "Don't worry, it's still going to be here," Pemoulie says, though the homey, gooey dessert may arrive at the table in a slightly different form. "We found a way to incorporate it into the new menu."