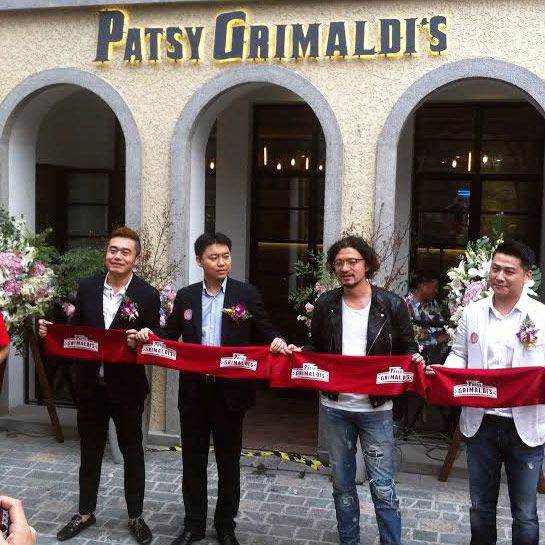 The grand opening, off Shanghai's French Concession.
Photo: Christopher Beam
On a sunny Saturday afternoon late last autumn, just off one of the tree-lined streets of Shanghai's upscale French Concession, a crowd of investors, VIPs, and curious locals milled around a cobblestone patio, sipping champagne and nibbling slices of pizza to celebrate the official opening of a restaurant called Patsy Grimaldi's. Someone turned down the thumping dance music, and a hostess in a slinky white dress took the microphone: "First, on behalf of our founder Mr. Patsy Grimaldi and all the partners, I'd like to welcome today's guests." Next, Jason Yuan, introduced as a representative of the restaurant's New York-based investors, gave a brief lesson on the history of Grimaldi's Pizzeria, which he called "our Grimaldi's." Then Yuan and two of the partners, along with the guest of honor, the Shanghai soccer star Xie Hui, lined up before a row of cameras and cut a long red ribbon with the restaurant's logo, before raising a toast.
Soon, the hostess invited everyone inside to watch a video message from Patsy GrimaldiThe legendary New York pizza-maker. himself. He had originally been planning to attend the opening, but had to cancel with little warning, she explained. A poorly lit image of Grimaldi flickered onscreen. He looked all of his 83 years. "I'm so sorry," he said, his voice weak, "I'm not feeling well. I spoke to my doctor and he said because of your age … it's better you postpone. Sorry to wait till the last minute, but that's the way it goes. Thank you for everything."
The Shanghai restaurant isn't a replica of the Brooklyn pizzeria, located in a two-story corner location in Dumbo that has a perpetual line of pizza-hungry tourists outside. This is a Chinese reimagining. Located in a newly minted commercial space next to a tiki bar and a Starbucks, the facade looks more like the imitation Italian stucco of an upscale suburban mall than a proper Brooklyn brownstone. But the interior features the New York restaurant's classic red-and-white-checkered placemats, exceedingly polite waiters wearing T-shirts with the slogan written in a Godfather font — "We'll make you a pizza you can't refuse" — and cooks in black Yankees hats throwing dough behind a glass partition. One wall is decorated with a photo of the famed Brooklyn establishment. Two of the cooks used to work at Grimaldi's branches in New York and have been teaching the Chinese staff how to make the perfect pie. When I recruited a group of Shanghai-based New York pizza aficionados for a taste test, they agreed that the product is faithful to the original.
Yet when I sent an interview request to Grimaldi, curious to learn why he'd decided to open a restaurant in Shanghai of all places, a spokesman responded: "Patsy has no ownership interest in nor any affiliation with this organization whatsoever."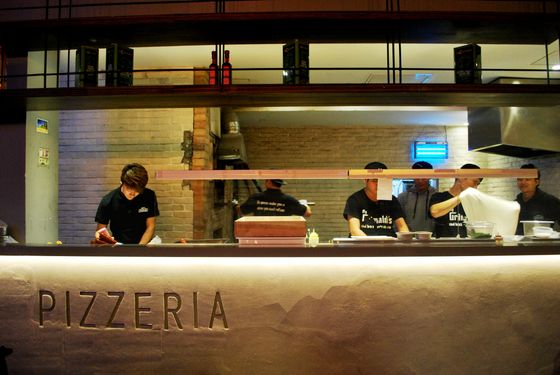 The Shanghai operation is yet another chapter in Grimaldi's famously complicated history. Here's the relatively short version: In 1990, Grimaldi opened his pizzeria on Old Fulton Street in the shadow of the Brooklyn Bridge. He called that restaurant Patsy's, then changed the name to Grimaldi's Pizzeria when the owner of a different Patsy's sued. In 1998, Grimaldi sold his restaurant to Frank Ciolli, who still runs the New York branches. Ciolli's son Joseph has since opened 40 Grimaldi's restaurantsThrough a company named JMC Restaurant Holdings. in ten states and registered the trademark internationally, including in China.
These days, though, Grimaldi's (the restaurant) has been plagued by ongoing legal trouble. In 2011, the landlord at the original Old Fulton Street location kicked Ciolli out, so he moved into a new, larger location right next door on Front Street, and, the following year, Pasty opened another pizzeria in the Old Fulton Street location called Juliana's. Ciolli, meanwhile, got into a legal dispute with Marcelo PevidaA retired NYPD officer who almost died on 9/11 when a piece of airplane fuselage fell on the hood of his cruiser. and Tom Tao, the two men who sublease the Front Street property to Grimaldi's, over their contract. According to a lawyer for Pevida, he now wants Ciolli and Grimaldi's Pizzeria out of the building. Gina Peluso, Ciolli's stepdaughter and manager of the Grimaldi's Front Street location, calls Pevida and Tao "money-hungry people."
Now the Shanghai operation has made all of these relationships even thornier: In October, the holdings companies that own the trademark for Grimaldi's Pizzeria domestically and internationally (operated by Joseph Ciolli) filed a $25 million lawsuit in Brooklyn federal court calling the Shanghai restaurant "counterfeit." The complaint names three men — Pevida, Tao, and a former Grimaldi's doorman named Joseph Silvestri — as the orchestrators of the Shanghai business, and accuses them of having "deceived, confused, and misled the consuming public … into wrongly believing" that the Shanghai location is associated with the original Grimaldi's Pizzeria. The suit points to the new restaurant's nearly identical name, logo, and menu text as instances of intellectual property theft.
The defendants not only reject the claims of the lawsuit; they deny knowing anything about the Shanghai restaurant whatsoever. In October, Pevida said that he was not aware the Shanghai restaurant even existed. This, despite the fact that the wall of the Shanghai restaurant is covered with photos of him posing with celebrities like Mike Tyson and Kevin Spacey. (The same photos also hang on the third floor of the Front Street location, outside Pevida's office.) Martin Shell, a lawyer for Pevida and Tao, tells me that Pevida didn't give those photos to the Shanghai restaurant, and suggests instead that someone might have stolen them off Facebook. Another lawyer representing Pevida, Henry Cittone, says that Pevida has since seen pictures of the new Shanghai restaurant with two giant Hello Kitty dolls seated out front. "He wouldn't have anything to do with anything like that," Cittone tells me.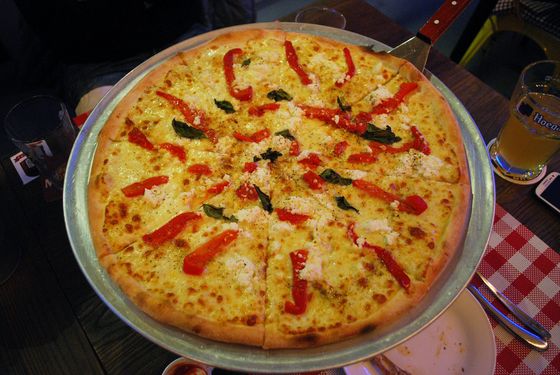 When I visited the Shanghai location last fall, everyone seemed to know Pevida. "He's one of the partners," said Tina Lou, the boss of the Shanghai restaurant. According to Lou, Pevida even helped arrange for the two Grimaldi's employees to come to Shanghai. When I asked about the photos of Pevida on the wall, she said that Pevida sent them to her by email and gave his permission to hang them up. Lou said she did not know why he would deny having any connection to the restaurant.
Then there's Patsy Grimaldi himself, whose own supposed connection with the Shanghai place has raised tensions as well. The bosses of Patsy Grimaldi's in Shanghai insist they have the support of Grimaldi (the man), and have aggressively hyped its alleged association with the founder: In addition to the odd video played during the restaurant's opening, photos of Grimaldi hang on the wall upstairs, and Manny Garcia, a manager who previously worked at the now-closed Second Avenue location in New York, told me that Patsy was the one who had sent him to Shanghai (a claim that doesn't actually seem very credible). Yet Peluso says Grimaldi was planning on visiting: One night, Grimaldi walked from Juliana's to Grimaldi's — he often goes over to check on things and chat up the staff — and bragged to the doorman that he was getting paid $20,000 to fly to Shanghai and do an event for a new restaurant. The doorman passed the word on to PelusoGina Peluso, the manager of the Grimaldi's Pizzeria in Brooklyn., who told her brother JosephJoseph Ciolli, the man who runs JMC Restaurant Holdings, which owns the Grimaldi's trademark., who called up Grimaldi. According to Peluso, Joseph told him that if he went to Shanghai, he'd be named in the trademark lawsuit, too. Soon after, Grimaldi canceled his plans.
According to a source close to Grimaldi, when he told his Shanghai contact that he couldn't make it after all, the man brought a camera phone to Grimaldi's house and insisted he record an explanation of the situation for the contact's boss in Shanghai. Little did Grimaldi know this would become the video played for the public at the opening ceremony, presented as an endorsement of the new restaurant. "These guys should be ashamed of themselves," the source says.
Nevertheless, the Shanghai episode has made the already testy relationship between Grimaldi and the Ciolli family even worse. And, according to Peluso, it's "really sunk" Grimaldi: "It really made him look bad." But she says she understands why he wanted to take the Shanghai offer in the first place: He needed the cash. After selling Grimaldi's, she says, "Patsy took the money and went broke. … He's so desperate for money, he'd do anything."
She's less forgiving of Garcia and a man named Sammy Espinoza, who left their jobs at the New York locations to go to Shanghai. "I love Manny," she tells me, before correcting herself: "I loved him. I trusted him completely." When asked if she sees his defection as a betrayal, she replies, "One thousand percent — and you can tell him that." Of PevidaThe former NYC cop named with Tom Tao in the trademark lawsuit., she says, "I play nice with him because I don't need to be in the building with tension, but I know he's a fucking liar." She has even more disdain for SilvestriThe former Grimaldi's doorman, also named in the trademark lawsuit.: "He's just a creepy fuck looking for money."
Back in Shanghai, the squabbles don't seem to be affecting business. Early on a recent Friday night, tables were filling up, and groups of young Chinese, many of them couples, shared pies, in addition to snacks not available at the original Dumbo Grimaldi's, such as roasted seasonal vegetables and chicken wings, which I watched one young man carefully eat with a knife and fork.
It's unclear whether questions of authenticity — or legality — will even matter here. Chinese companies aren't known for their transparency, and customers aren't likely to forgo tasty pizza out of concern for international trademark law. LouTina Lou, who runs the Shanghai operation. dismisses the suggestion that the lawsuit is an actual threat. The Shanghai business already got the approval of local government authorities, according to one of the investors who preferred not to give her name. Ciolli may have registered the Grimaldi's Pizzeria trademark in the People's Republic of China, but this restaurant is called Patsy Grimaldi's: "It's totally different," YuanThe investor representative from the grand-opening ceremony. explains. "Like Pepsi Cola and Coca-Cola." And anyway, Lou adds, if the owners of Grimaldi's Pizzeria are upset about the restaurant in China, they should file a suit in Chinese courts, not in Brooklyn. "I don't think this is a big deal," she says. "Who cares? As long as the pizza is good, and the customer likes it."