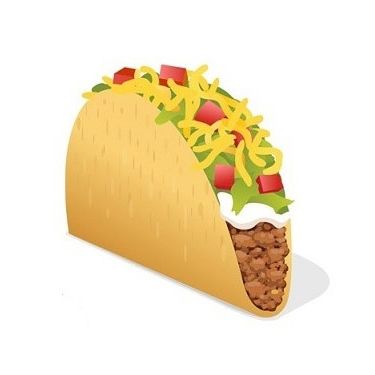 This emoji is practically a cartoon Taco Bell taco.
The inability to text a taco has become one of life's biggest outrages — one that America's biggest Tex-Mex-ish chain may singlehandedly rectify with the insane new media campaign its running. It's working in overdrive to convince people on social media to sign a Change.org petition demanding the Unicode Consortium make "taco" one of the new food emoji. While the fast-food company has offered no position so far on "burrito," it has been asking the hard questions: "Why do we need four different types of mailboxes? Or 25 different types of clocks? Or a VCR tape and floppy disk emoji? No one even uses those things anymore."
The chain has also deployed #tacoemoji on Twitter, and the effort seems to be paying off: Its petition crossed the 25,000-supporter threshold last night.
25,000 signatures! Your move, @Unicode. #TacoEmoji http://t.co/bkAWIg89Xp pic.twitter.com/fPD50J7iaM— Taco Bell (@tacobell) January 28, 2015

Because there's probably a little extra room in the marketing budget after selling a billion tacos sprayed with Doritos seasonings, the chain is also selling themed clothing to aid their own war effort.
You may have noticed the $22.99 T-shirt does not, mysteriously, feature an actual taco emoji. People are nonetheless lapping it up.
While others still argue that the appearance of the proposed emoji seems to resemble ready-made advertising for the fast-food chain rather than a genuine Mexican taco, it seems as though other corporations are ready to settle for whatever they can get.
We want to post a #tacoemoji for #tacotuesday but we're still waiting for it to happen.— Seamless (@Seamless) January 28, 2015