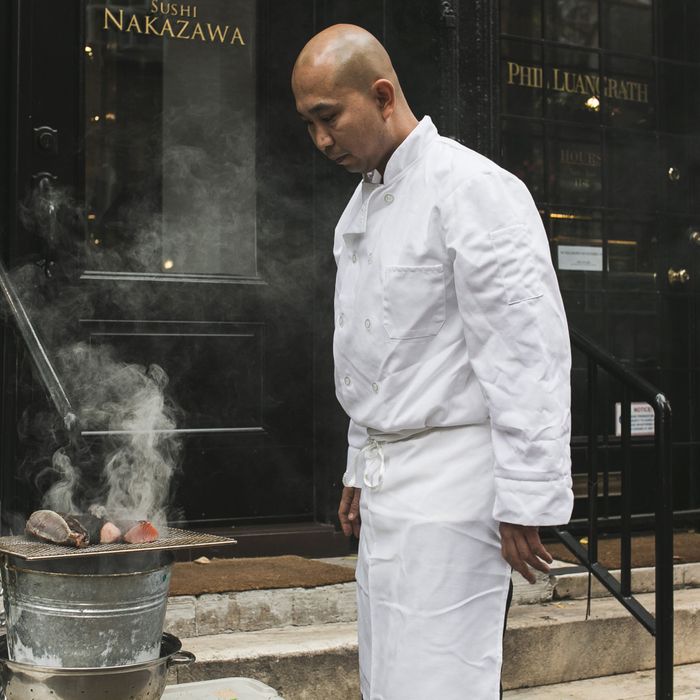 Go, Daisuke.
Photo: Sushi Nakazawa
Alessandro Borgognone, the owner of Sushi Nakazawa in the West Village, has submitted plans to debut a new restaurant in the old Rose's Turn space at 55 Grove Street. Here, Daisuke Nakazawa, who wowed New York's Adam Platt and just about everyone else in 2013 with his namesake restaurant, will not specialize in straight-up sashimi or sushi. Instead, DNAinfo reports the as-yet-unnamed spot will have a $125-per-person tasting menu featuring the chef's composed seafood dishes, such as fluke carpaccio with karashi, caviar, and Meyer lemon. Live scallops from Maine with butter and chives were also mentioned by Borgognone as a sample item, as was beef toast with wasabi and blackened leeks. There's no word on the number of courses, but Nakazawa's current pricing schematic ranges between $120 and $150 at the bar for its omakase.
The proprietor appeared before CB2 Manhattan's liquor licensing committee last week. Borgognone said that unlike Nakazawa, the new spot will accept walk-in reservations, and that a bar in the Grove Street space's basement will have room for eight customers. He did not offer any details on an opening date, but we've reached out and will let you know what we hear.
[DNAinfo]