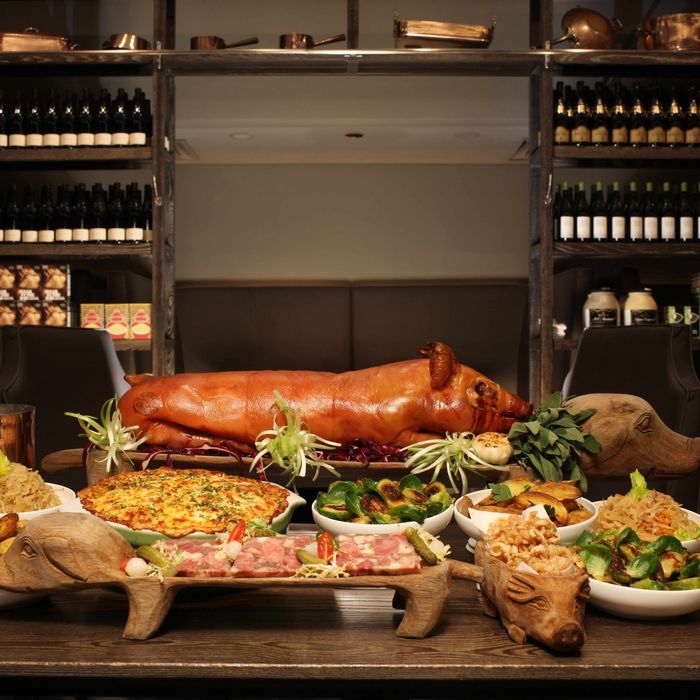 No assembly required; wine and other stuff not included.
Photo: Caviar
We've already taken a look at this year's list of standout catered food options for Sunday, which includes Korean wings and scallion pancakes from Momofuku, Buffalo-sauced taquitos ("buffalitos"), four-layer dips galore, giant meatball parms, and lots of other great stuff. One more, if you're still undecided and you want all your friends to have an inferiority complex, is a whole roasted suckling pig from Pennsylvania Green Village Farms made by Daniel Boulud's cooks at DBGB Kitchen & Bar and delivered (in Manhattan) for $595.
It's $4.99 for delivery and there's a 18 percent service charge, and the package also includes pork loin and Swiss chard stuffing, fingerlings, a vegetable tart, and a bunch of other stuff. Also, three pints of ice cream and two dozen cookies of the chocolate chip or peanut butter persuasion are involved. Caviar is running a bunch of similar, colossal-size packages in Manhattan and Brooklyn, where the delivery service just launched, but this is the only one that successfully integrates game faces, pigskins, game day, and one pig face.