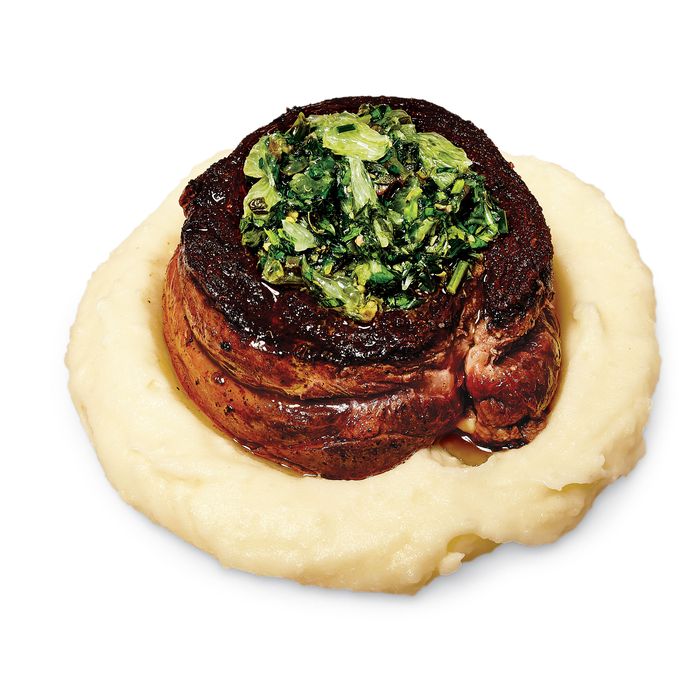 Photo: Bobby Doherty/New York Magazine
Before chef Josh Capon opened his new chophouse, Bowery Meat Company, he paid a visit to—where else?—meat mecca Pat LaFrieda Meat Purveyors in North Bergen, New Jersey. Like Bonasera asking Don Corleone for a favor, Capon told Pat Jr. he was looking for something unique, creative, a signature. "I'm a huge fan of rib eyes," he explained to the meat boss, "but when you eat a rib eye, you get that outer deckle [or thin cap of beef surrounding the rib eye that aficionados consider the best part] and there's never enough." Like a magician pulling a rabbit out of a hat, LaFrieda unveiled a four-pound strip of solid cap meat detached from the rib eye. Then he rolled and tied it into a log like a bûche de Noël and cut it into eight-ounce, one-inch-thick steaks. Thus, the Bowery steak was born.
Mouse over or tap the image to read more.

On the menu at Bowery Meat Company, $52; 9 E. 1st St., nr. Bowery; 212-460-5255
Photo: Bobby Doherty/New York Magazine
*This article appears in the January 12, 2014 issue of New York Magazine.