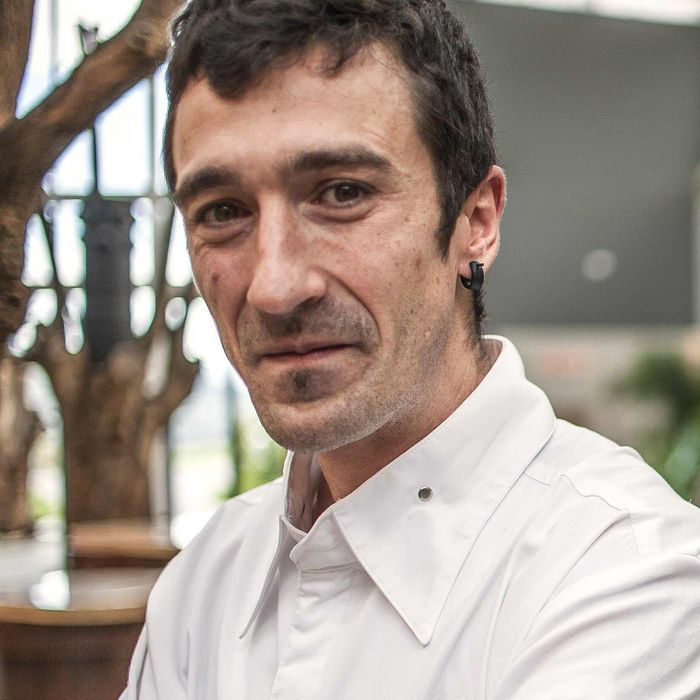 He's bringing some fresh sea urchin.
Photo: Miguel Tona/EPA/Corbis
Good news for Michelin completists and people who are fond of oysters topped with algae foam: Eneko Atxa of Spanish restaurant Azurmendi will cook dinner at the Mandarin Oriental for three nights only, February 18 to 20. The modernist Basque restaurant, which has three Michelin stars and clocked in at No. 26 on last year's "World's 50 Best" list, is very much rooted in its Spanish hilltop digs and greenhouse full of hyperlocal ingredients, but perhaps now that Redzepi is in Tokyo, Blumenthal is Down Under, and the Roca bros are all over, Atxa has decided to hit the road with a compact version of Azurmendi.
The ultralimited nature of the New York engagement makes it a rarity. In Spain, Atxa's servers never deal with more than two tables at any given time, and at the hotel, the chef's menu will only be available for a small number of guests. The seven-course opus includes those oysters, pigeon with fried cauliflower, and a dessert of strawberry ice cream with rose meringue that looks really cool. We're going to guess spherical Idiazábal will make an appearance, too. Seating is limited; the menu is $185 per person, with wine pairings at $110 more. Call 212-805-8809 or email monyc-restaurantbooking@mohg.com for reservations.