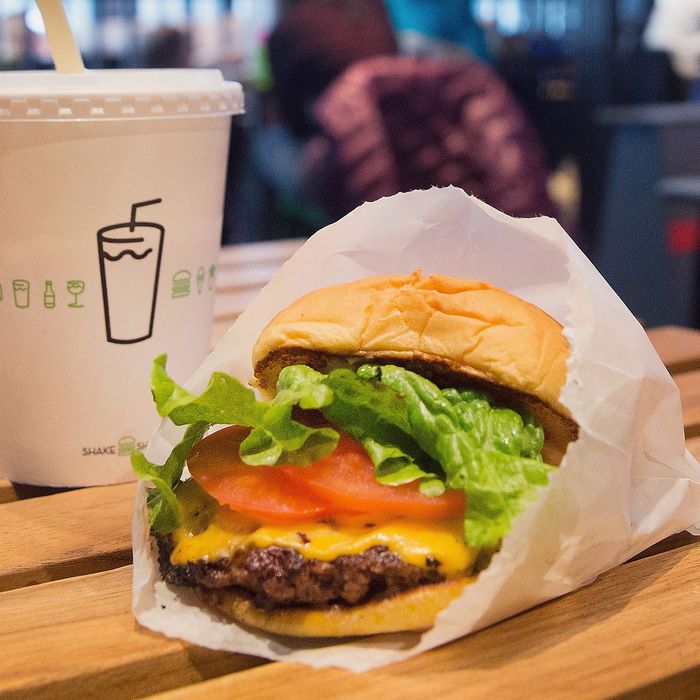 ShackBurgers for all.
Photo: Scott Olson/Getty Images
Right this minute, Danny Meyer is killing it even more than usual: Shake Shack officially debuted on the New York Stock Exchange — dubbed the "New York Shack Exchange" for the day — and the company is celebrating by handing out free food. Meanwhile, McDonald's is in free fall and Chipotle still can't find enough humanely raised pigs to stuff inside all its burritos.
In fact, the Shake Shack IPO itself was met this morning with a procession of enthusiastic stories in outlets around the country. Here are takes from CNN, USA Today, The New Yorker, a huge New York Times piece, The Wall Street Journal, Reuters, and Bloomberg Business.
The most obvious result of all this attention is the massive surge in the price of Shake Shack's stock, from $14 earlier this week, to $17, up to $21 per share when trading began this morning, immediately shooting up to around $50 before holding steady. If you follow New York restaurants at all, you already know that the line on Meyer is he's basically an unstoppable force of likability, so there's little reason to think the good news will stop here.
In the foreseeable future, Shake Shack plans to open at least ten company-owned outposts annually, with the next new market being Austin, Texas. With recent openings in Las Vegas and Chicago, it's clear that the team isn't content to be a well-loved regional chain, something like the East Coast equivalent of In-n-Out. Naysayers and bearish investors point to the potential hurdles facing national growth, though; namely that the market for fancy-ish fast-food (fast-casual, in industry jargon) looks like it's about to hit a saturation point, and the potential for growth is slowing. Meyer's team now must also prove it can maintain the chain's high level of quality control and, of course, the staff's trademark hospitality. Everyone will probably be extra cheerful today, anyway.