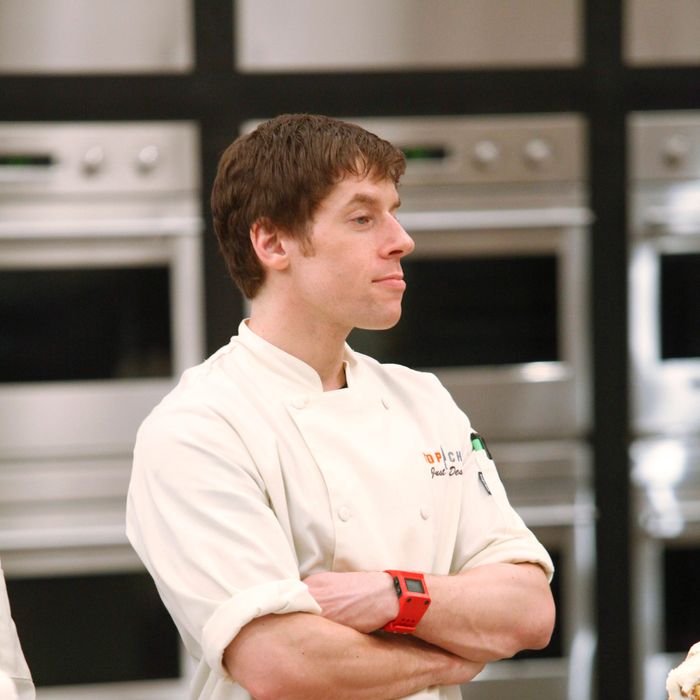 Seth Caro, probably mulling his feelings about the show.
Photo: NBC/Getty Images
In a series on the offscreen "secrets" of reality TV, the Post delves into the ordeals of a Hell's Kitchen contestant and the "torture" of Seth Caro, who was on Top Chef. The New Yorker was featured on Just Desserts season one, where his "volatile presence" and departure — unrelated to judge elimination — was jarring for some viewers. He tells the paper that producers played some serious mental games on him.
After averaging two hours of sleep for several nights, being fed "at the whims of production," and ultimately having a breakdown after having to use Breyer's ice cream in a Quickfire Challenge, Caro says he told producers he wanted off the show but "was physically prevented from doing so." Instead, the film crew kept filming as he had an anxiety attack. "They took me back to the hotel — I was never arrested — and then they took me to a mental hospital, where I was put on a 5150 for three days," he tells the Post, of his involuntary psychiatric hold. "I was in my chef's jacket and socks. I didn't have my phone. No one from the network or the show came to see me." Caro says he's "been destroyed by the experience," and is in the process of changing his name so would-be employers and dates can't Google his past.
As far as any nightmarish goings-on behind the scenes at Hell's Kitchen, former contestants Jen Yemola and Tek Moore tell the paper the show was rigged — for instance, the crew would switch the salt and sugar "so people would look like complete f—king assholes." Yemola adds she "became borderline suicidal after the show." The good news, however, if you can call it that, is that she says she'd do another show if anyone asked.
[NYP]