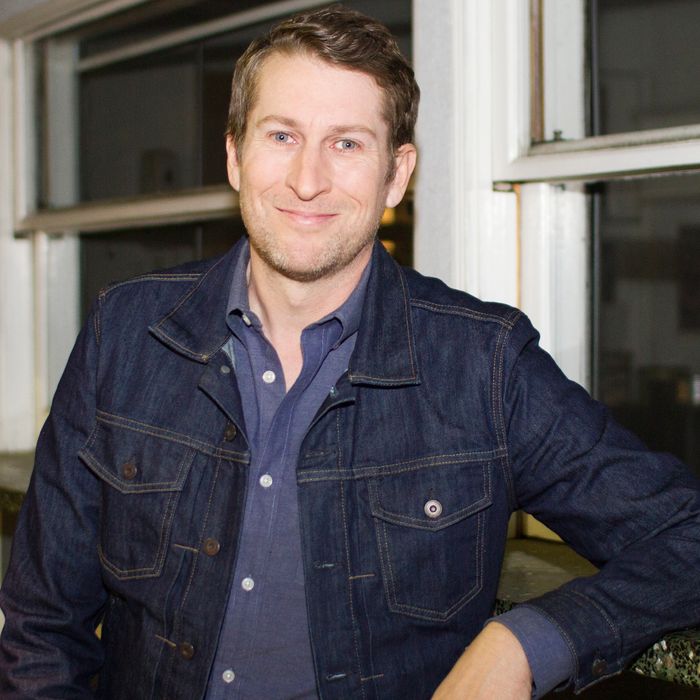 "But I was craving burgers and ice cream."
Photo: Rodolfo Carlos
Brought to you by
Like many of us, Scott Aukerman spent the better part of last week on vacation, sitting on the beach, eating whatever the hell he wanted. But then, as January revved up, he had to return to the real world (his home in Los Angeles) — and his day-to-day responsibilities involve a keeping strict diet to stay lean while filming his IFC show, Comedy Bang! Bang! . (Aukerman's also the co-creator and director of Between Two Ferns with Zach Galifianakis, and he hosts a "Comedy Bang! Bang!" podcast.) This week, Grub caught him in transition, while he savored his last bites of burgers, fish tacos, and hazelnut ice cream for quite a while. Read all about it in this week's Grub Street Diet.
Thursday, January 1
It was the morning after New Year's Eve, so we'd done a little partying. My wife, Kulap, and I were on vacation at Casa Rolandi in Isla Mujeres. We started our day with two Bloody Marys on the beach, and then graduated to a Kobe beef burger with Cheddar and bacon. And French fries.
For dinner that night, we went to a nice restaurant at the resort, called Le Metissage. There was a prix fixe menu, which is why I ate so many things: caprese salad, salmon carpaccio, grilled veal check, lime sorbet with limoncello, and deconstructed tres leches. Plus: two glasses of white wine.
Friday, January 2
We rented golf carts and took a trip around the island. We went on Trip Advisor to find the best places to eat, and the Mango Cafe was everyone's favorite. So we split the coconut pancakes with maple syrup, and I ordered the chipotle quesadilla for myself … although I guess I gave some to my wife. And I had organic coffee.
Everyone said the best fish tacos were at Bally Hoo. I had two, plus a margarita, and they were delicious! Really fresh and nicely breaded. Definitely some of the best fish tacos I've ever had.
For dinner, I swore I wasn't going to eat anything. My wife ordered some room service and I got a few things just in case when hers arrived, the smell wouldn't make me hungry. And it did! So I ended up eating a chicken-club sandwich, French fries, and hazelnut ice cream.
Saturday, January 3
The next day was a travel day, so we had a quick room-service breakfast while we were packing. Just some raspberry yogurt and granola, and a latte.

The airport was so crazy that we didn't get a chance to eat before our flight. But the Delta food on the plane was actually pretty good: I had two mini roast-beef sliders, potato chips, and a glass of white wine.

Usually for dinner at home, I try to eat something super light. We have these Luvo frozen meals that steam in the microwave. But they're not like normal frozen meals — they're really delicious. This one included red-wine-braised beef and polenta with roasted Brussels sprouts, butternut squash, and cranberries.
Sunday, January 4
The next day was our friend Matt's birthday, and we went to a birthday brunch for him at Cliff's Edge in Silver Lake. This was the last day that I got to eat whatever I wanted, because we start shooting again on the first Monday of the year, and I have to go back on a diet. I lost 30 pounds or so to do the show.
They brought out a bunch of appetizers: Brussels sprouts with balsamic, fried-egg grabiche, truffle fries, and biscuits with maple gravy. I ordered the eggs Benedict with Canadian bacon for myself.

For dinner, my wife grilled some turkey burgers and bratwurst from meat that we had left over from the holidays. Good-bye to eating whatever I want! I also had fresh corn on the cob and McConnell's Turkish coffee ice cream.
Monday, January 5
This low-fat, low-carb diet lasts until May 22. It's hard to keep the diet going. I don't especially like to cook, but I made myself a few meals at home. For breakfast: two egg whites, two slices of turkey bacon, and coffee with sugarless creamer.
For lunch, at home, I had turkey breast with sandwich thins, Pirate's Booty popcorn, and Vitamin Zero water.
More turkey for dinner: My wife ground it up and put it into cupcake trays, and made it into a meatloaf. Turkey meatloaf cupcakes! And potatoes and white wine.
Tuesday, January 6
I heated up a frozen burrito for breakfast: egg whites, chicken, apple, and sausage. I also had coffee with sugarless creamer.
For lunch, I usually get food delivered. That day, it was from a place in Hollywood called Locali — kale salad in a whole-wheat wrap.
And back at home, for dinner, I had another one of those frozen Luvo dinners: chicken-chile verde with polenta and black beans. But I was craving burgers and ice cream. Those are the things that I'll miss the most!