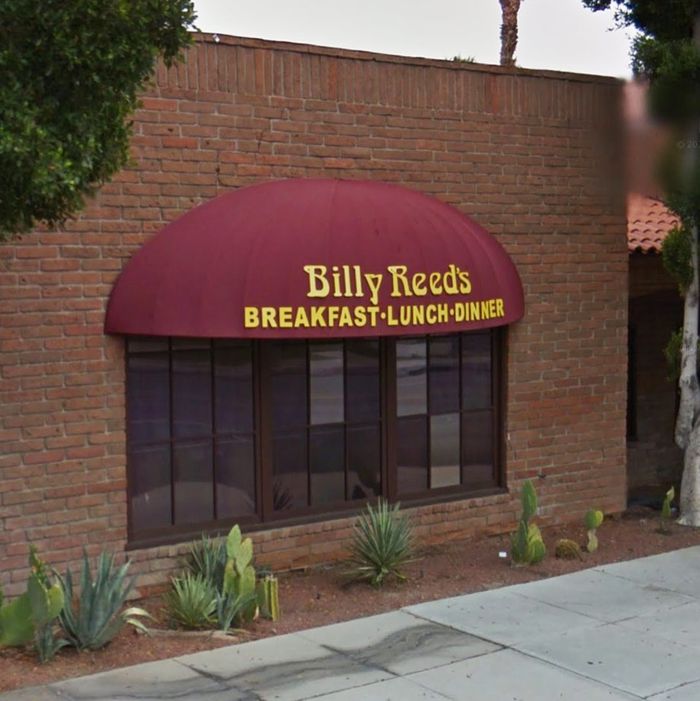 As American as Billy Reed's Latino-made apple pie.
Photo: Google Maps
Billy Reed's, a restaurant in the California resort town Palm Springs, has served "real American" cuisine such as burgers and crab cakes for the last 40 years, which really doesn't at all help explain why namesake Billy Reed posted a new rule requiring all workers to speak only English in the front-of-house. Reed said he grew weary of complaints from "uncomfortable" customers who allegedly "worried the workers talked about them." His fix was an unambiguous sign, typed in Comic Sans: "Please do not speak Spanish to other employees anywhere in the restaurant except when necessary on the cook line. That means not in the waitress stations or at the front desk," it says.
The penalty for transgressing the ban, which is almost certainly against the law as stated by the Equal Employment Opportunity Commission, was reportedly instant job termination. The general manager "said that the boss was going to fire the first one he heard talking in Spanish," an employee tells the local CBS affiliate. The population of Palm Springs, it should be pointed out, is more than a quarter Latino.
In 2013, an employee at a Whole Foods location in Albuquerque alleged that he and a colleague had been suspended after complaining about being censured for speaking Spanish on the job. The chain's chief executive later called it an "unfortunate incident" and said that the workers had received paid, one-day suspensions for their behavior, not for conversing in Spanish.
[KESQ]