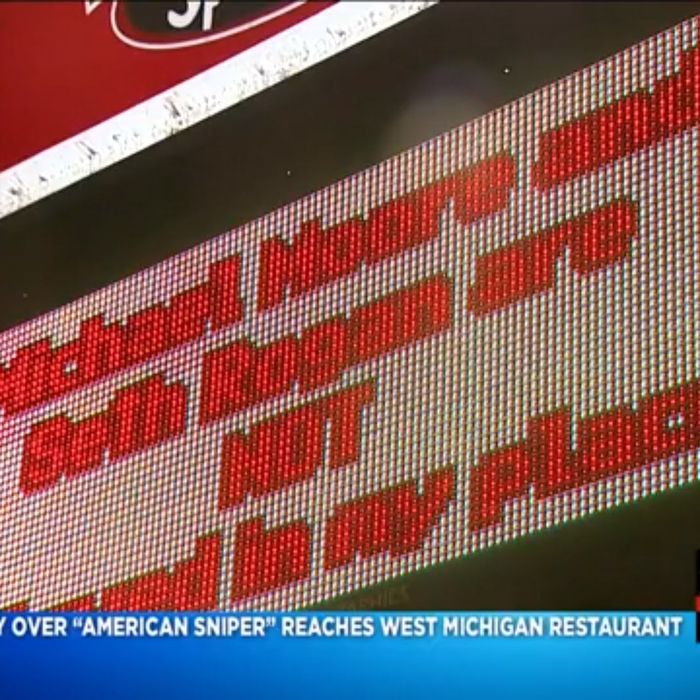 Of course he spelled "Rogen" wrong.
The owner of the Brann's Steakhouse and Grille outside Grand Rapids has adamantly informed the world, in bright letters on a marquee outside the establishment, that "Michael Moore and Seth Rogen are NOT allowed in my place." Owner Tommy Brann believes he might not own restaurants at all if it weren't for the man behind American Sniper, Chris Kyle, and he wasn't what you'd call pleased when he saw their tweets last week about Clint Eastwood's latest flick:
American Sniper kind of reminds me of the movie that's showing in the third act of Inglorious Basterds.— Seth Rogen (@Sethrogen) January 18, 2015

Both have since backtracked, but as Brann sees it, the damage has been done. "For 43 years I've been a small business man because of the Chris Kyles of the world," he tells local news station WOOD, his flag tattoo visible on his bicep. "I have a right to not serve the Michael Moores and the Seth Rogens." A couple of people have complained, he explains, but it's going to take a lot more than that to bring down his giant sign.
Who knows the last time Seth Rogen was passing through the south side of Grand Rapids, but Michael Moore was born and raised just a few hours away, in Flint. Brann has considered this and will be waiting. "If Michael Moore comes in here with a party of two, party of 40, I'll take the 38," he threatens, "but he's not getting served."
[WOOD]