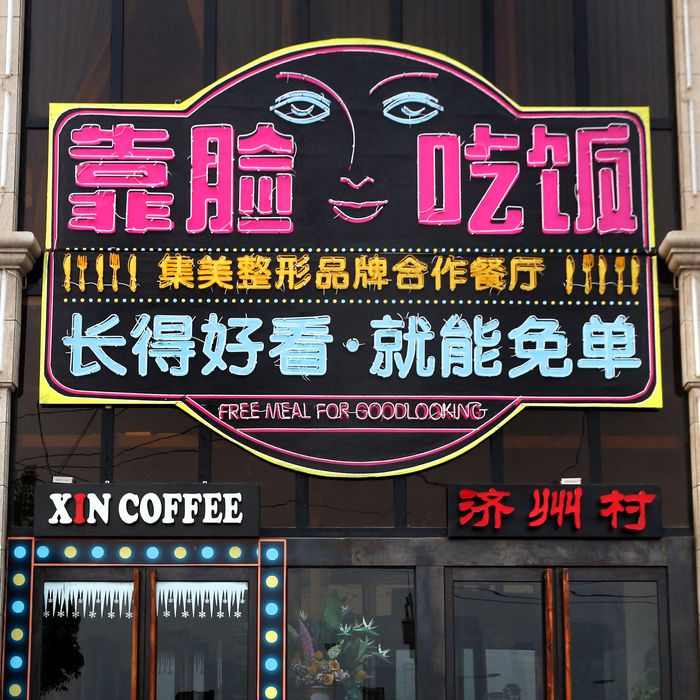 Come here, all you beautiful people.
Photo: Wang wei/Imaginechina/Corbis
Perhaps in an effort to rustle up a different demographic than the spot in Chongqing that recently promoted a hefty discount for fat men and skinny women, another restaurant in China has undertaken a promotion that awards free food to the 50 most attractive patrons who filter through its front door each day. Who is and isn't beautiful is, of course, judged by a completely objective team of plastic surgeons on hand whose clinic is being prominently advertised.
After entering beneath a pink neon "Free meal for goodlooking" sign that China News Service reports has since been forcibly removed by Zhengzhou city officials, customers at Jeju Island get herded to the "Pay by Face" beauty-identification area and photographed. If your facial scan reveals true beauty — cheeks that are just bony enough, or a forehead that apparently "protrudes" the right amount — it's your tablemates' lucky day: All of you may be getting a comped meal.
Although the move is getting a variety of detractors, the owner has stepped up to reassure anyone upset by the sign that they'll "be more prudent with our advertising in future." They also have conveniently displayed a "detailed scoring rubric" for all to see, which is definitely something those still set on going should at least peruse before popping in for a pre-meal nip and tuck.