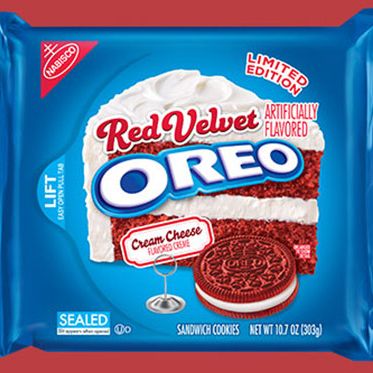 It was just last fall that a tantalizing photo purporting to depict red-velvet-flavored Oreos tore its way through social media before it was debunked as a hoax, but now that debunking itself has been debunked and the cookies are coming out in limited-edition form starting February 2. They'll be sold for "six to eight weeks."
However, some of these cake-cookies are already out in the world, available for tasting — here's what people are saying:
• According to Time, "It's not tangy, it doesn't taste like cream cheese."
But wait! Here's an insta-take from BuzzFeed that would seem to contradict the above:
• "The creme tastes like real cream cheese frosting, which is surprising in a delightful way but also sad because it doesn't really taste like an Oreo."
So there you have it: The cream-cheese filling in Red Velvet Oreos may, or may not, taste like actual cream cheese, and the Oreo itself might not even taste like an Oreo. Other than the evidence that cookie ennui is a real phenomenon, the only certainty at the moment seems to be that these really are real, and that you will be able to buy them soon.