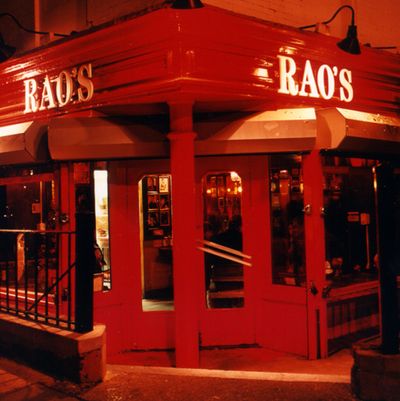 No, you won't have to call 500 times for a table.
Photo: Rao's
The site of the East Harlem building that's home to Rao's, the all but impossible to get into red-sauce institution where Jimmy Fallon croons in the dining room while Jay Z plays cards with Harvey Keitel in the kitchen, is for sale. The Daily News puts the figure of the just-listed property, which is also home to "22 luxury apartments," at a very specific $10.48 million. "A new owner could convert the building to condos or break it down into a single-family home," the paper reports.
The restaurant's proprietors, who opened a booming outpost in Hollywood in 2013 and celebrate their 118th anniversary in Harlem this year, reportedly own the seven-floor building. Despite the range of potential plans for condos galore laid out in the offer, it looks as though Rao's is staying put — the listing touts a "once in a lifetime opportunity to own a building anchored by an institution" — so that's a relief. Still, last year 13 customers recounted for Grub Street the lengths they went to in order to get a reservation, and the guy who plied co-owner Frank Pellegrino with copious "flowers, spa gift cards, and movie-premiere invitations" and got a single table is among the notoriously exclusive restaurant's success stories. Buying the entire building may give you a little more leverage, but don't count on it.
[NYDN]