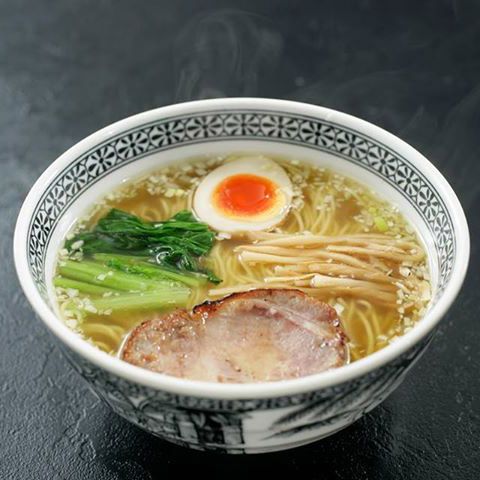 A sample bowl.
Photo: Ramen Lab
After several utility-company-related delays and a few weeks of fine-tuning the bone broths simmering away in the stock pots, Sun Noodle's Ramen Lab will debut tonight at 70 Kenmare Street.
The concept is twofold: From 5 to 10 p.m.,Tuesday through Saturday, the tiny venue's chef Shigetoshi Nakamura, who happens to go by Jack, will cook a few kinds of soup for ten customers at a time. Ramen Lab's daytime hours are reserved to continue the company's industry-specific work, such as meeting with chefs who are opening ramenyas around the country, or those like Ivan Orkin, who have detailed specifications for custom noodles.
Nakamura, who was once described as leading Japan's second generation of excellent and innovative ramen chefs, is opening with two kinds of ramen: First up, there's a sprout-topped miso variety ($14), with nira, green onions, and XO sauce made by Kaizen Trading Company, the fermentation-heavy product arm of the Momofuku restaurant group.
The second comes with a backstory. Co-owner Kenshiro Uki says that the torigara shoyu ramen ($13) is based on a 105-year-old type with a "very, very clear broth" made only from chicken, and some ultrathin, wavy noodles. The style serves as the archetype of modern ramen; it's generally pegged to Tokyo and is probably most recognized by connoisseurs of a certain age, says Uki, but also happens to represent a master class of precision: Green onions are sliced fine and added to the empty bowl, along with tare and rendered chicken fat. The stock mingles with the flavor of the scallions, the chashu pork and fish cake add body and depth, and the other soup elements are added in a particular to build out the soup's textures and overall flavor profile. Serving it "a way of staying true to the philosophy of ramen," says Uki.

Customers can add an egg to either ramen for $2, and pork gyoza ($7) round out the menu. Ramen Lab serves ItoEn tea, Kikusui Funaguchi sake by the can, and the beer list includes Victory Pils and a lager from the Okinawa-based brewer Orion, which is hard to find in the States. Uki says that once the shop gets going, the plan is to offer seasonal ramen and more menu items. For now, Ramen Lab does not accept reservations.
Ramen Lab, 70 Kenmare St., nr. Mulberry St.; 646-615-7522