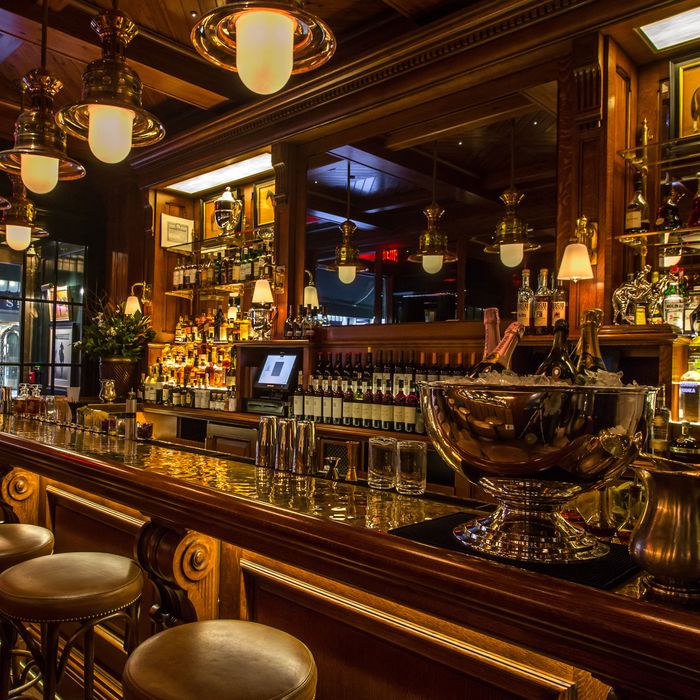 Not for plebeians.
Photo: Paul Wagtouicz
For all the fuss that New Yorkers make about reservations, it's really not so hard to eat at the city's most popular restaurants if you're willing to be flexible. Show up on a Monday at 6:30 p.m. Ask to sit at the bar. Dine alone. But not one of these tactics will work at the just-opened Polo Bar. You're better off wearing a Donald Trump mask: Unless you're a known VIP, it's nearly impossible to get a table — or even a seat at the bar. To merely step foot inside the Polo Bar, a reservation is required. And if you call for a table, there's at least a one-month wait.
I discovered this on a recent Friday evening, when I found myself in restaurant no-man's-land — otherwise known as midtown — and walked over to the Polo Bar for a cheeseburger and an Old-Fashioned. I've always liked RL in Chicago: It has a not-too-cheesy country-club vibe, and the delicious lobster bisque only costs $9.50. After all, the Ralph Lauren brand is so successful because Lauren's been able to market luxury products to the masses — there's something Polo for everyone. But for a man who's made his money by dressing the greater American public, it's curious that his Manhattan restaurant seems determined to keep the hoi polloi out.
On that Friday evening, the restaurant's front door felt like a nightclub for Real Housewives rejects. Two bouncers stood outside the Polo Bar's door (wearing truly beautiful cashmere coats), iPads in hand. Meanwhile, two older women, both dressed in full-length fur jackets and stiletto pumps, loitered outside trying to sweet-talk their way in. Sorry, the bouncers told them, it wasn't happening if they weren't on the list. Only those with reservations could enter the Polo Bar. When it was my turn to plead my case, I gently explained that I only needed one seat, and that, through the window, I could see a single bar stool available. It didn't matter.
Even at Keith McNally's restaurants, which are as buzzy as they come, the hosts manage — somehow, some way — to actually let pedestrians come in to eat a burger. Sure, a Dirty French reservation is hard to come by, but it's easy to sit at the bar and have a cocktail. In short, these restaurants do their best to accommodate even the poorest of planners, and while they certainly give preferential treatment to VIP guests, they're still accessible.
When I called up the Polo Bar to check about the next available reservation for a plebeian, a curt hostess said that because of Fashion Week, reservations weren't available until at least a month out. That's a lot of advance planning for a place that serves cheeseburgers and brownie sundaes. Surely Tom Hanks, Bradley Cooper, Diane von Furstenberg, Charlie Rose, and Martha Stewart — all of whom have dined at the Polo Bar — don't jump through these hoops.
According to the Polo Bar's publicist, the restaurant instituted this rule during its opening week because "they want the bar to be the place to enjoy a civilized drink pre- or post-dinner." While the policy ensures the Polo Bar doesn't become a total tourist trap right out of the gate, it's also garbage. Even Rao's allows people to walk inside and have a drink at the bar.
When a colleague of mine announced that she ate dinner at the Polo Bar, I quickly asked how she got in — turns out, she'd been invited by the Polo Bar publicist. The prohibitive door policy, of course, is all about attracting press and and creating an artificial sense of demand, which is common enough, even if it's annoying. But while skilled restaurateurs can create that buzz while also making everyone feel at least somewhat welcome, the Polo Bar's warm clubhouse feelings, at the moment, only extend to the elite.