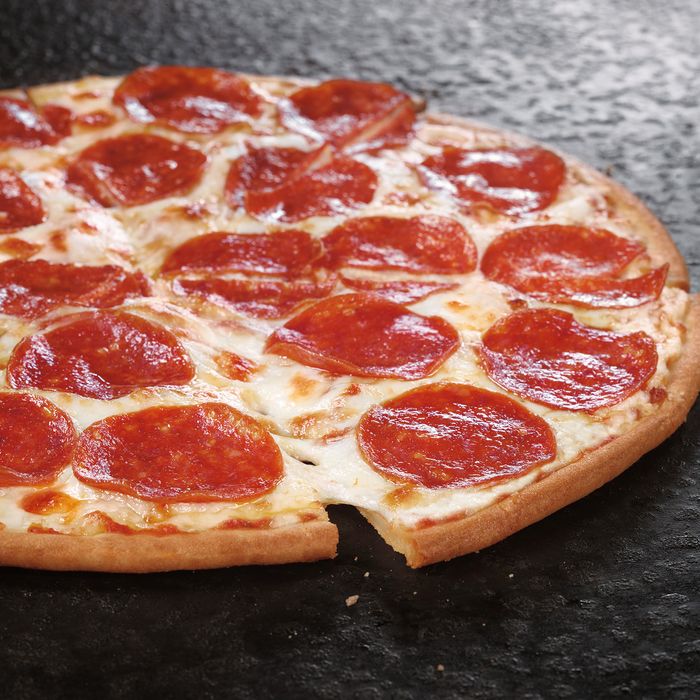 Greasy pepperoni for all, hurray.
Photo: Pizza Hut
Starting January 26, the country's largest pizza chain will become the first to offer a certified gluten-free option. Available at more than a third of its stores, the $9.99, ten-inch pepperoni pie will have six slices at 150 calories apiece. The crusts are made from tapioca starch and rice flour, and are supplied by Udi's Gluten Free Foods. Because certification also means that ingredients stay clear of wheat flour and other gluten-containing ingredients, Pizza Hut says that participating locations will store the crust, cheese, sauce, and pepperoni in a special box, use a special pizza cutter to cut pies, make employees wear special gloves, and roll out special parchment paper for assembly.
It's the biggest break yet for people with Celiac disease and gluten sensitivities who are inclined to go to Pizza Hut, if not the first breakthrough of its kind for a fast-food chain — Domino's introduced a gluten-free pie in 2012, though it was processed in the same general area as gluten-containing foods, and the brand's own U.K. division has had a gluten-free option since 2013. But the corporate office, now pros in the art of mind-reading, has been boasting that its gigantic new menu offers customers "over 2 billion combinations" of pizza, so now technically that's 2 billion plus one very significant one.
[USAT]