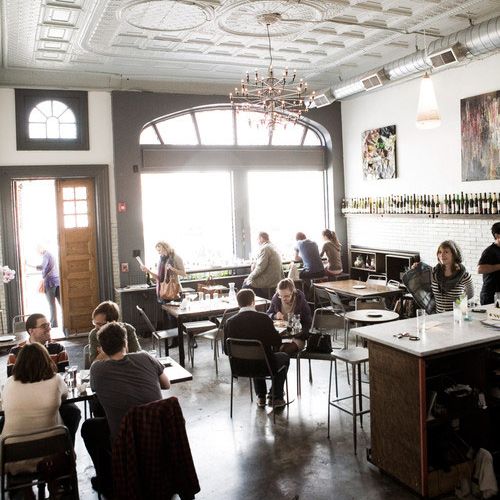 That's some gratuitous compensation going on here.
Photo: Bar Marco
A three-year-old Pittsburgh restaurant already noted for dynamite food announced it is kicking off 2015 with a serious New Year's resolution by upping the ante in the ever-growing trend of refusing tips. Bar Marco announced the news on Twitter, saying that in April it won't accept gratuities anymore because all employees will be on salary.
The industry's workers — from busboys on up to sous chefs — are as underpaid and overworked as anybody, and in Pennsylvania the minimum tipped wage is $2.83. By paying $35,000 a year, Bar Marco ensures its staff will pull in at least five or six times that wage even if they got stuck with dead shifts and deadbeat tippers.
Co-owner Bobby Fry says he devised the system so that it pays front-of-the-house and the kitchen equally without adding service charges to checks or massively hiking menu prices. In addition to the base salary, workers will get full health benefits. They'll also work at worst 44-hour weeks — another rarity — with two days off, plus Sundays, when the restaurant is ordinarily closed, and ten vacation days. On top of that, every employee who sticks around for three months will also receive 500 shares in the company; they're worth $1 at first, but increase in value as they mature. Fry adds an expectation comes along with the perks — that employees will stay actively involved in the venture by doing things like showing up for bi-monthly finance meetings. "They will have a lot of responsibilities," he says. "We want people who want to be part of what we are doing and who want to grow with us."
The changing nature of restaurant service and the future of tipping in general makes this one to watch; apparently, it's all sounding pretty good to Pittsburghers so far:
We've received over 50 resumes for the two open positions, hang in there family, we're getting back to you all as fast as we can!— Bar Marco (@BarMarcoPGH) January 5, 2015