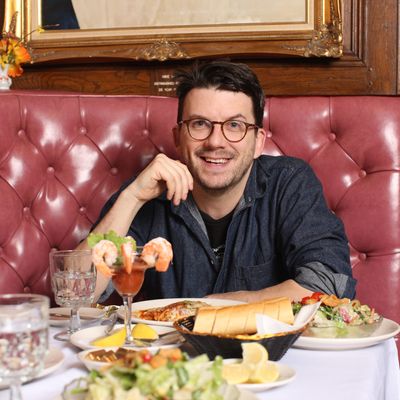 "You should probably have to be 30 to even walk through the doors of the place," he says of Forlini's.
Photo: Melissa Hom
Brought to you by
Lucky Peach editor Peter Meehan — who's also worked for the New York Times and authored several cookbooks — had a particularly busy week: His team launched a brand-new website, closed an issue, and worked on a "cooking project or three." Of course, the workload did little to get in the way of his eating schedule, but Meehan found time for meals at Oriental Garden, Mission Cantina, Forlini's, and more — not to mention, home cooking with his family that involved burritos filled with leftover Chinese chicken, lovely-sounding steamed artichokes, and some varsity-level pizzas. Read it all in this week's Grub Street Diet.
Thursday, January 8
Morning goes like this: get the baby out of the kids' room before she wakes up big sister, carry her around while getting the kettle to boil, grinding coffee for the Chemex, and simmering up a little pot of Pompanoosuc porridge for her breakfast. I try to feed the baby the same thing every day. We fed the older one like a different five-course breakfast every morning when she was little and she did not give an eff, so trying to get those habits right on the second go around.
Pompanoosuc porridge is a King Arthur Flour product that Brette Warshaw, who works at Lucky Peach, gave me a bag of. Never heard of it before. It's like millet and flax and whatever — very healthy bird food. Baby loves it. The baby is a bird.
Later it is cold and we are hungry at work. I offer to go out and get fortifying sandwiches. Often this means bánh mì from Saigon, but today the offer is Parisi. I don't really go there after 11 a.m. because the lines start to get long. But it's freezing and 10:50 by the time I'm thinking about lunch, so it works. Trudge over and order three Dennises.
The Dennis is the best thing to order at Parisi: It's a monster of a chicken cutlet sandwich into which there is layered some prosciutto and mozzarella and thick slabs of unripe but juicy tomatoes. A primitive pesto does the moistening. The sandwich flirts with dryness but stays on the side of the Lord. Half a Dennis is enough for anyone who doesn't do hard physical labor, so I eat half. I eat it in a minute or less. So gross. I am a snake, my jaw unhinged, my prey still whole inside me.
In the afternoon, I lament that I am going to go to the Smile, our local fancy coffee shop, and overspend on cookies, and it will be shameful to put in my New York Diet. Joanna Sciarrino, my co-worker, offers me an apple. I gratefully accept it and am stunned by its size. "I like big apples," she tells me. Joanna is a real born-and-bred New Yorker, so of course she does.
At home, dinner is this: rice and beans for the baby, rice and beans and mozzarella folded into a simple burrito for the 5-year-old, burritos made with spicy leftover Chinese-y chicken from some recipe testing for me and my wife. My wife is a good cook. I am lucky.
Friday, January 9
The morning is the morning.
After I take the old one to school, I go to meet my friend JJ Basil at Shopsin's. I met JJ while working on the wd~50 cookbook. He was a cook there for years and came back around to pitch in at the end of the restaurant's run. JJ invites me to breakfast at Shopsin's, but I do not want to go because I want to drink black coffee and type and try and fail to win at capitalism, but I am doing this thing so I know I need to get some performative eating in there.
And, once I'm tucked into a table, I am reminded that there is little that is greater than being in Kenny Shopsin's orbit when he feels like talking to you — and he and JJ really do have a history and a rapport. Shopsin is sharp and foul because the sun still rises every morning and certain truths do not change. But he is so loving about his kids and his family. His aesthetic and business pronouncements are profound. His curmudgeonly generosity is irrefutably one of the things that makes this increasingly intolerable city not a completely soulless shit-hole. He tells us the story of eating at Rakel with Bud Trillin back before Thomas Keller had become Thomas Keller.
Shopsin's stories are better than your stories and his tater tots are better than your tater tots. (It's all in the technique.) The food is great. JJ starts us off with an order of poutine, which is 300 percent more calories than I need all day, and which I will crave periodically throughout the weekend. I also ate tiger paws (three egg-and-cheese sliders on Martin's potato rolls) and food off other people's plates, but it's too gross to think about it now.
Two hours later I am at Oriental Garden with JJ in tow, meeting with Mary-Frances Heck, who is working on recipe stuff for me, and Joanna from work. We eat a lot of seafood. The giant oysters steamed with black bean sauce never fail. The snow-pea leaves with whole cloves of wok-roasted garlic are fantastic. I've eaten here a million times but the staff always treats me like a guy who is wading out into too-deep waters when I order like I know what I want. They actually don't even give me the sauce I want on my steamed live scallops.
Now this is starting to look like one of those fancy Grub Street Diets, right? Three meals out in one day! Honestly, there have been weeks and months in the last few years during which I have eaten every meal at home, so I'm really glad this isn't just like "Shut-In Week With Peter Meehan Who Survives on the Crusts of His Daughters' PB&Js.;"
The guys behind Santina invited me for a friends and family preview. This is a nice thing for them to do and my critic-ing days are over, so who cares. I know nothing about the place but its address when I get there. It's a glass cube underneath the Highline, the staff is dressed like … I don't go to nice tropical places and/or to Florida, but I think they look like people who would work at a resort in a place like that. We have docked our yacht in a fancy foreign port.
It feels unfair to say too much about a place when I was there as their guest and it was the first night they served food, but I was also pretty bowled over by how well they put the package together. The food is light and vegetable-y, and not in a stupid way. There's a hot chickpea crepe thing that Carbone should build a QSR concept around. (Disclaimer: I was one of the few people who liked Dave Chang's burritos back in the day, so I could be wrong about what works in the chain game.) I almost stole a bottle of the hot sauce that came with it. ("No, I don't know what you're talking about, sir, our server never bought us any. Opening night kink, I'm sure.") There's a big pot of ice with a bunch of pretty vegetables stuck in it — crudité, I guess — which reminds me of a kind of easy Venetian-y version of the pot of vegetables that René [Redzepi] does at Noma. Fun to eat.
There were some (possibly goat cheese?) ravioli in a raw tomato-and-basil sauce that may or may not have made me moan like a person who is faking how much they like food for a television camera. You will never know.
Anyway, the vision I had of the place was that the tall, beautiful people who I imagine hang out over in that part of town will soon enough be stabbing each other with their pointy shoes for tables so they can eat raw vegetables on Mario Carbone's imaginary cruise ship. I wonder if I will ever eat here again. My shoes are not pointy; I don't know how I'll fare in the melee.
Saturday, January 10
Saturday was way too cold and we stayed inside most of the day and ate what was around. My daughters have both gotten into brown bread — the German stuff that comes in a brick and lasts forever and has 25 percent of your daily recommended fiber in every slice. So we eat that twice during the day with peanut butter and cream cheese and different jellies. We are not going ice skating, but everybody's getting their fiber. This pleases me. I am the Wilford Brimley of food-writer fathers.
I have a habit now, I am learning, of collapsing late in the afternoon on Saturday. This happens, and when I stumble out from my nap into the living room, my wife has made pizza. A normal pizza with red bell peppers cooked into it for the kids — Hazel, my older daughter, calls this "her style."
Then she pulls out a second pizza topped with blue cheese, kimchi, bacon, and roasted cauliflower. What has happened? I am puzzled and possibly still asleep. I call it the "fridge-cleaner" because why else would these things come together? Is this real? We are not an outré pizza family on the usual.
She rattles off her reasons:
1. I posted a story from the excellent travel site Roads & Kingdoms on the Lucky Peach internets, and she read it, and it was about the crazy things Koreans do to pizza.
2. Christina Tosi proved the deliciousness of blue cheese and kimchi years ago; bacon goes with everything; roasted cauliflower basically also goes with all these flavors.
3. We had all these things anyway.
The pizzas are both very delicious. I eat too much. But not too too much, as I go around the corner to Lafayette after the kids are asleep. I go to Lafayette for business-y breakfast meetings and late-night cookie runs. Also, I go there to buy eclairs before meetings with Wylie Dufresne. Man loves his Viennoiserie.
Anyway, I go there a lot, a few times a week. I usually get a macchiato so I can stay up typing and then a few pastries. That night there was a thing called the petit choux — three bite-size éclair-nuggets, a sampler. As I was walking out, I overheard a customer tell his girlfriend I was "David Chang's food writer."
I am Leona Helmsley's dog. I am Imelda Marcos's shoe. I thought about walking out into traffic and ending it all, but, as a father, that seemed irresponsible, so I went home an sorrow-ate my pastries.
Sunday, January 11
Bird food makes Brimley happy at breakfast. I think I ate some granola that my wife makes. I really want to type "I love granola" here, but then I'm going to feel bad about myself, so let's move on.
My older daughter had a play-date cancellation, which kind of put us in a bad position: grumpy girl, no plans for the day otherwise, and very cold outside. We volunteered that we would go out for French fries, because obviously cramming your face with fast-ish food is the best and healthiest way to teach a child to deal with setbacks in life.
We were hoping that Bark had opened on Bleecker (I pass it every morning on the walk to school, never been to the one in Brooklyn), but no luck. We end up going to Burger Joint on 8th Street. I was shittily suspicious of it — who doesn't love the one in the Parker-Meridien uptown? — but it proves me totally wrong. Smells sour like a dive bar (reminds me of Big Pink in Buffalo); waitress couldn't have been nicer; the fries are fries like fries should be. The cheeseburger with the works is a great burger that you'd be happy to find anywhere in America …
Suddenly, Jeff Goldblum pops into my head. He did a commercial for lightbulbs that was produced by the Tim & Eric Awesome Show Great Job! guys, and in the end he says "America" in this hilariously lecherous way and now that is all I can think of. You should watch it on the internet every day like I do.
Dinner is light. Mainly a steamed artichoke. Except that we actually cook them in the pressure cooker because who knows why. It works. Chilled. With mayo for dipping. Gabriele Stabile, the Italian photographer I have worked with for years, arrives at JFK and texts me during dinner and it reminds me of the time that he came over and we were eating artichokes and my wife and I were avoiding the thistles at the center of the flower. He was like, are you insane? And then he ate them. My wife is superstitiously afraid of that part of the artichoke, but I think of how proud Gabri would be. I eat the choke.
Later that night, my wife bakes AK cookies. She finally let me publish the recipe for them: They're in the "Holiday Issue" and I'll put them up on our website now because I think that's how the internet works. They are my favorite cookies. They are my kryptonite. I know they are best when they have fully cooled, but I start eating them as soon as she's not looking because, come on, you don't get into this line of work because of your quality impulse control.
Monday, January 12
I eat a cookie for breakfast.
I have a haircut at 9:30 a.m. because I am doing a Grub Street Diet for a fancy magazine's website and I look like a fucking wookie crossed with an inbred grad student and I need to be shorn. I find I have 30 minutes of free time on my hands, and if I wasn't doing this Diet I'd probably go by the bank and deposit a check and/or answer emails over a coffee, but instead I go to Mission Cantina for Vietnamese breakfast.
I get a fried egg doused in Maggi seasoning and black pepper with a plate of shrimp chips. Such a good snack. I drink a coffee with condensed milk. I finish about half of my chicken pho before I have to run. Vietnamese food in the morning makes life better.
After a very short interval, I report to Forlini's for the photo. Forlini's is currently my favorite restaurant, mainly for the vibes and setting, which are incredible. It's a Law & Order backdrop brought to life. It's Little Italy how you want and hope and wish it could be — the oil paintings, the banquettes, the cast of characters from the courthouse down the road. It's the best.
My friend Justin Tripp, who produces most of the Lucky Peach videos, introduced me to the place when we took an office in Chinatown near his. I like the Forlini's salad and the eggplant parm. My line is that if you've been good and we're having a business lunch, I will signal your goodness by ordering shrimp cocktail to share. I have never eaten in the bar at Forlini's, but Justin tells me they put meat sauce on their chicken parm, so I'll probably check that out the next time I want to feel like dying all afternoon.
I feel like I should note that I have a warm sentimental spot for Italian-American restaurants and cooking, so I'd hate for some nerdball Yelp-hound to go to Forlini's and bitch about the place not being fancy or with the times or as good as [insert modern Italian-American restaurant with hip clientele here]. You should probably have to be 30 to even walk through the doors of the place or else you totally won't get it.
I get home late from work and have more work to do once the kids are asleep. Dinner is simple: rice, roasted delicata squash with a soy-tahini dressing, kimchi. My wife rules at food. I eat the leftover steamed vegetables that the kids didn't.
Late at night, I eat half of the last AK cookie in the house.
Tuesday, January 13
I eat the remaining half in the morning. Feed the kids, our website launches.
Go to the office, go to Eleven Madison Park to check out the vibes at a photo shoot for a future issue. Split after an hour because I realize I'm just bullshitting and holding up people from getting work done. I want to hate the EMP guys because they are so successful, but Jesus Christ they couldn't happen to be nicer, more talented, or more thoughtful people. I eat nothing there and hear tell of killer pastrami sandwiches served at staff meal that my Italian photographer gets to partake of.
At 1 p.m., I have basically eaten nothing all day. I devour a bánh mì from Saigon Banh Mi. (My order is the No. 1, not spicy, though I always drench it in toxic amounts of Sriracha.) I love the place and have been going there for more than a decade and at both of their last two locations. But this is not about love. I need to eat.
The late afternoon and early evening are a swirl of child care and getting our apartment ready to host some test cooking and photo shoots — we haven't gotten a Lucky Peach test kitchen built yet, so it's happening at my place. My wife makes pasta with pesto for the kids: It was one of those things my older daughter latched onto years ago and, you know, there are green things in it. We all end up just eating that.
And that brings me to now, here. Just ran out to Lafayette. Coffee to power the typing. Got some pastries. Time to eat. It always is.