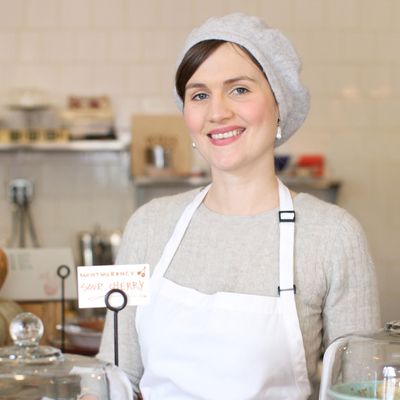 Paredez, behind the counter.
Photo: Melissa Hom
From the introduction of throwback apple à la mode at the Dutch to the everything-from-the-vending-machine pretzel-topped opuses from Momofuku Milk Bar, these last few years have been particularly great for pie. Four & Twenty Blackbirds essentially runs South Brooklyn now, and Pies 'n' Thighs is about to branch out into Manhattan proper. As the saying goes — or at least this should be a saying — there's always another slice, which is where Petee's Pie Co., Petra Paredez's shop, comes in. Since November, under a Beetlejuice-striped awning on a less-trafficked stretch of Delancey Street, Paredez's bakery has been quietly doling out excellent salty chocolate chess, butterscotch meringue, wild blueberry, and dozens more kinds of pie.
There's a kind of low-key pastry master class happening behind the counter of the Lower East Side business. Sworn enemies of pie greatness include crusts with soggy bottoms, or gnarly fluted edges, or saccharine, globby fruit. These things are side-stepped at Petee's: Paredez uses a sour Montmorency from Cahoon Farms in upstate New York, adds less sugar, and amplifies the fruit with extra lemon, for example. The shop subs brown butter and honey for corn syrup in its classic pecan, resulting in pie that's less like an overbaked, processed candy bar and more something that hums with a nutty, almost wild flavor. And the shop's arsenal of secret weapons also includes a double-armed, hulking old Artofex mixer. The immense steel bowl spins and its mixing arms go to work with the flip of a throw-switch, looking frantically animatronic, as if Johnny Five from Short Circuit had been engineered for baking instead of '80s-style warcraft. The machine's quick work helps prevent overmixing, resulting in a proverbially flaky crust and delicate slices with feathery edges.
Petra Paredez majored in sculpture in college and taught special education in East Tremont for two years before the thought of opening a pie shop ever crossed her mind. But the Virginia native happens to come from a baked-goods dynasty: Mom's Apple Pie Company, her family's operation, traces its roots to the early '80s. "They thought [the name] was kind of cheesy at the time, because they were more or less baking out of desperation," Paredez says, explaining that a few decades ago, her parents started making crusts and cutting apples after their farm foundered. Paredez's family not only once again has a farm and a CSA, Mom's also sells up to 2,000 pies at each of their three locations the day before Thanksgiving.
A few years ago, Paredez explains, she and her husband Robert were encouraged by the city's pie renaissance, and they began planning their own shop. Auspiciously, Petee's Pie Co. opened in the old Rocket Joe's space just before Thanksgiving. Pretty much all of the $5 slices involve local ingredients: Tart Crispin and mellower Golden Delicious from the Hudson Valley, for example, go into the apple and cranberry-apple. The radiant yellow, sweet "meadow butter" in the crust is churned by Kriemhild Dairy Farms in Hamilton, and the bakery's organic wheat flour comes from Champlain Valley Milling, also upstate. The base of the lemon, toasted almond, and popular salty chocolate chess pies is made with buttermilk from Pittsford Farms Dairy, just outside Rochester. Paredez will spend the winter sourcing more local ingredients, and in the interim she hopes to convince New Yorkers who may not think they like pie that they actually do. "It doesn't make sense," she says, of the unconverted. "It's real food, made with real dairy, real fruit, real eggs. It's not, like, a cupcake." Indeed. Here's a look at some of the slices.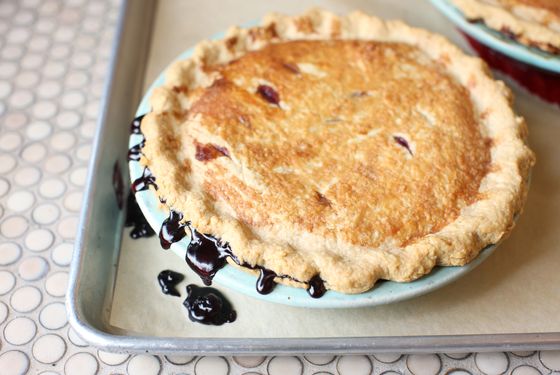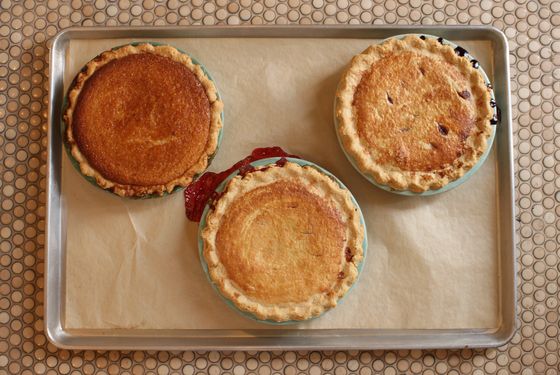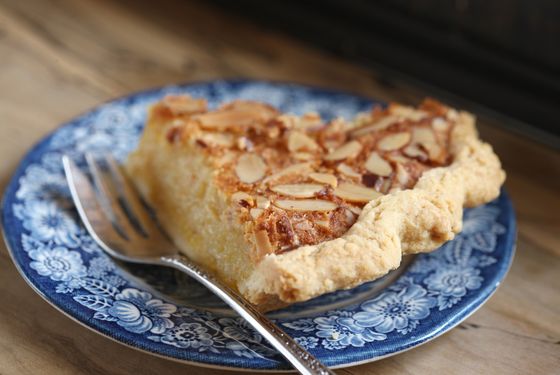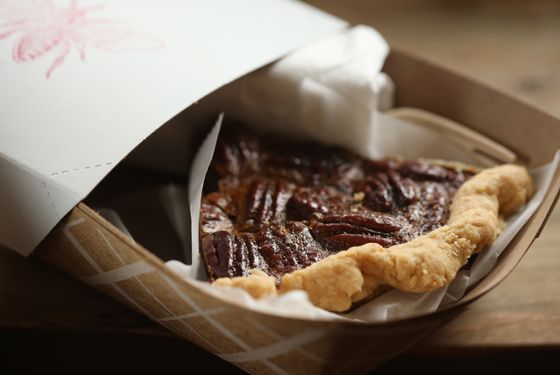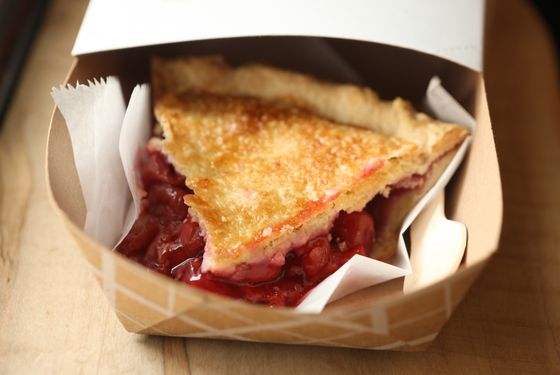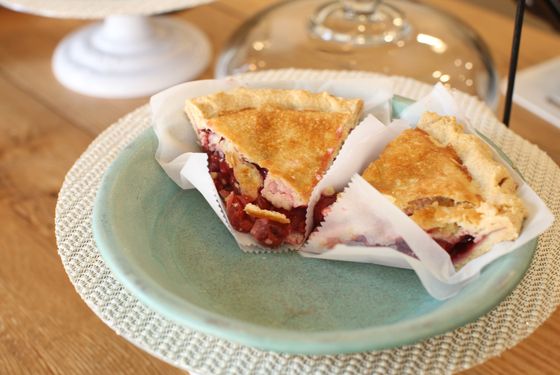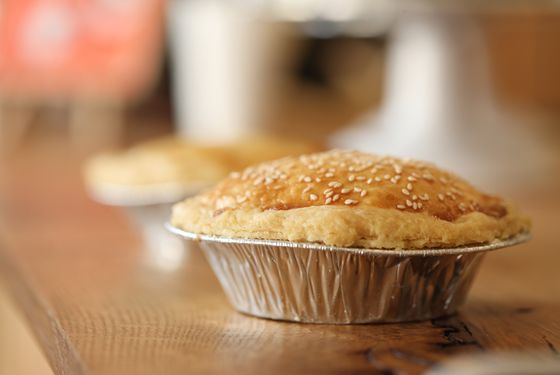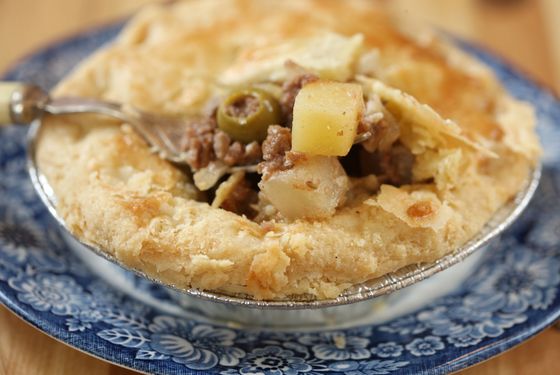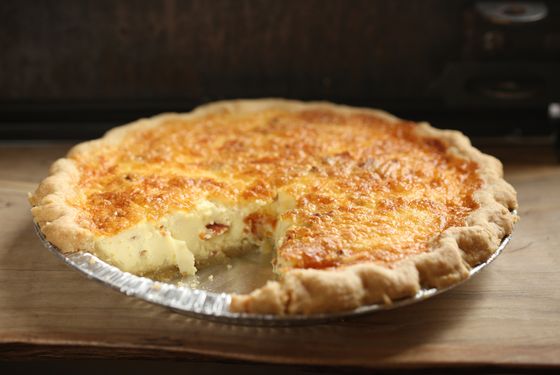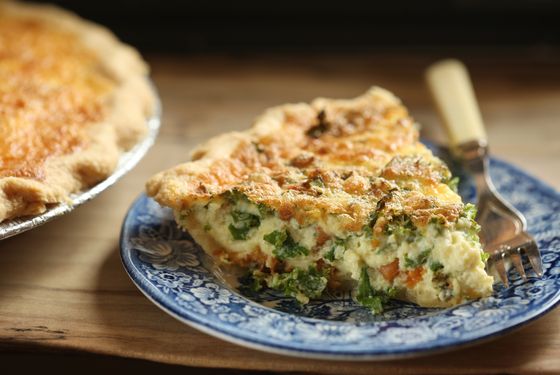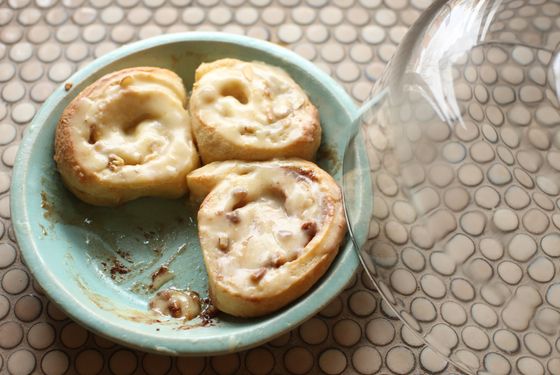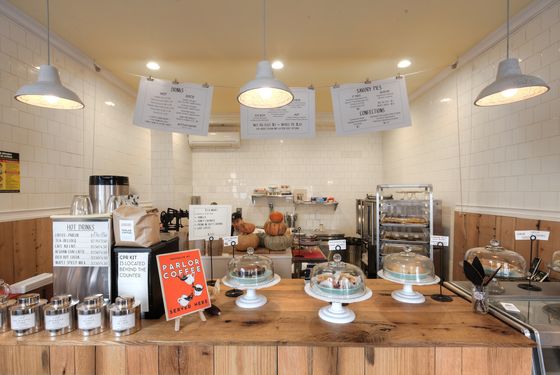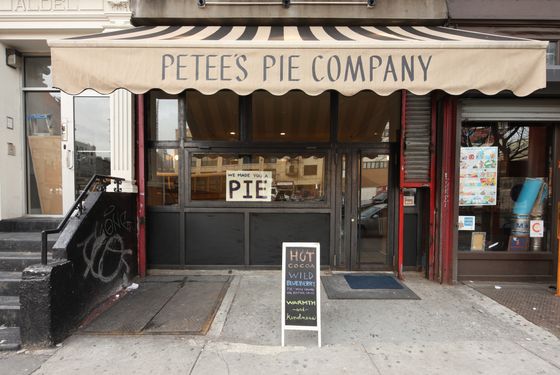 Petee's Pie Co. is open seven days a week from 10 a.m. onward. The shop closes at 11 p.m. Sundays through Thursdays, but stays open until midnight on Friday on Saturday.
Petee's Pie Company, 61 Delancey St., nr. Eldridge St.; 212-966-2526