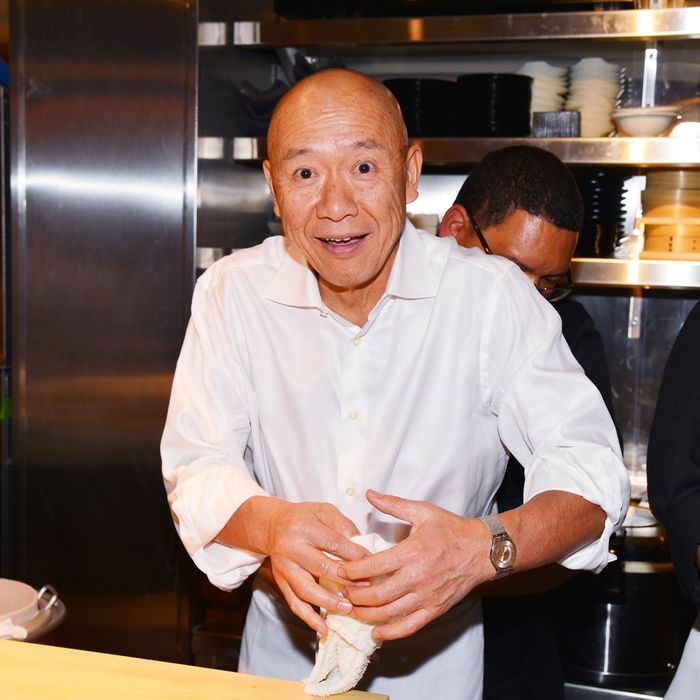 He's still a pretty dapper guy.
Photo: Patrick McMullan
For his first review of the New Year, Times critic Pete Wells eviscerates Kappo Masa, the three-month-old collaboration between sushi icon Masa Takayama and Larry Gagosian, located in a handsome wood-paneled space beneath the art magnate's Upper East Side gallery. The piece, which is punctuated with colons and accompanying price points for the various luxe cuts of bluefin and yellowtail, is perhaps Wells's most severe review since he went after Guy Fieri's gonzo onion ring towers in the fall of 2012.
The critic notes "200 percent to 300 percent" markups on wine, a $20 overcharge for cress and wasabi salad, and, in general, plenty of misery: Seasonings are inconsistent, servers are inattentive, foie gras is hammered, the chef is absent, and small plates like toro with caviar are so prohibitively pricey he doesn't even consider ordering them. "So I can't tell you how any of them taste, but I can tell you that by the time I spotted something for less than $80, it struck me as a steal," he writes.
More than being a chef who is emblematic of high-end Japanese cuisine, Masa the brand reigns as the premier name for a certain sort of living. ("If you feel like dropping a giant wad of cash on a high-end Japanese feast after a hard day trawling the galleries and boutiques along Madison Avenue," as New York's own Adam Platt summed it up in his recent "Where to Eat" opus for 2015.) Takayama's first New York restaurant, which sticks to omakase and is more expensive, is still going strong on the West Side.
Ultimately, Wells argues, any simple prospect of having dinner is completely obliterated by the medium of the restaurant. More so, the "restaurant itself is an imitation of luxury, not the real thing," priced out of the known hospitality universe into the far reaches of credit. "The cost of eating at Kappo Masa is so brutally, illogically, relentlessly high, and so out of proportion to any pleasure you may get, that large numbers start to seem like uninvited and poorly behaved guests at the table," he writes.
Wells ends by saying he'd give the restaurant one star if its prices were 20 percent lower, but it's getting zero. So the place that happily charges, say, $45 for a single scoop of white truffle ice cream becomes a kind of ineluctable spectacle. Will Kappo Masa be able to turn its kitchen and front-of-house around? If you believe in the sort of self-sustaining, Nello-ization theory offered by Felix Salmon in Grub Street a few years back:


Reinforcing that theory is the fact that for the rich, the combination of high prices and unadventurous food acts as a sort of invisible velvet rope. Besides being handily located on the Upper East Side, a restaurant like Nello can charge $26 for mediocre beet salad, or $40 for a plate of uninspired mushroom risotto, because to its customers, the money matters as little as the actual food does. But the 99 percent won't go there, because when they do splurge on food, they want an adventure to remember.
In other words, the restaurant can just keep on doing what it does best. Let's just hope no one decides to complain about the overcooked foie gras.
[NYT]