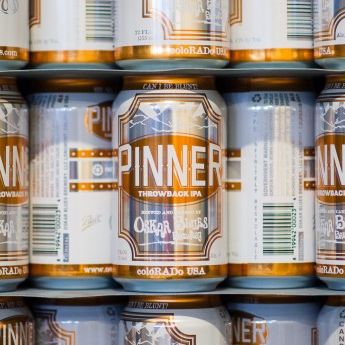 Goes doubly well with a bag of Cheetos.
Photo: Courtesy of Oskar Blues Brewery
Oskar Blues hardly plays coy with its weed references. Its canned Dale's Pale Ale may include handy markings on the side for becoming an ad hoc pipe once empty, and now the Denver brewery has gone one step more obvious with its Pinner Throwback IPA. It has all the cred of a good beer — dry-hopped with Mosaic, Citra, Eldorado, and Azacca hops, and sessionable with 4.9 percent ABV — that's also, in founder Dale Katechis's winking words, "a relaxant" with "the aroma and hop characters of cannabis." The name is a not-so-veiled reference to a low-grade-marijuana joint, and around the top of the can it says, "Can I be blunt?"
There's also this on the bottom:
Pinner has been available in Colorado and North Carolina since mid-December, but now Ricardo Baca, editor of the Denver Post's "Cannabist" and an authority on such matters, has gotten a hold of one and says there's no denying the smell. "It should hit you right in the face, as soon as you smell the beer" is how Katechis describes it to him, explaining that those at Oskar Blues "like the smell of marijuana" and that "it resonates with our customers," who, big surprise, "enjoy it as well." Pinner debuts next month as part of a mixed 12-pack before getting its full release later in March.