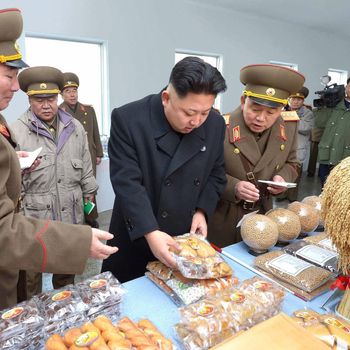 He's finalizing the menu right now.
Photo: KNS/AFP/Getty Images
Despite what British tabloids would have you believe, probably nobody's going to be ordering dog meat soup anytime soon at a Kim Jong-un–owned restaurant in Scotland. The rumor started yesterday after a Sunday Post story said a new, spartan full-service place was the regime's lofty "aim," and two DPRK experts we even quoted. One of them, Michael Madden of North Korea Leadership Watch, said it "would not surprise me at all" if the regime opened a restaurant in "left-leaning Scotland" because it's been in Kim's sights ever since he backed the failed independence referendum last year. Kim, a known connoisseur of mushrooms and Emmental enthusiast, also runs a restaurant chainlet called Pyongyang that funds the government. It has locations in Amsterdam (though the name there has since changed) and across Asia that reportedly serve dog soup, ginseng wine, and aphrodisiacs made from bear.
A North Korea spokesperson categorically denies that this idea is for real, but the mere suggestion is of course enough to warrant a tabloid dog pile — the Record, Metro, and Mirror all dove in, until the headlines reached the Star's "KIM DINE WITH ME: Porky President Kim Jong-un to Open UK Restaurant Serving DOG." The Daily Mail, meanwhile, was left to try to add nuance (not its forte) — a story about how it's part of a master plan serving "[Kim's] love of whisky and its popularity among the communist ruling elite." Left confused in the dust, American media like CNBC morphed the place into "a diner." It looks like North Korean mushroom-grilled cheese sandwiches aren't going to be a huge food trend, however, diner-style or otherwise, anytime soon.