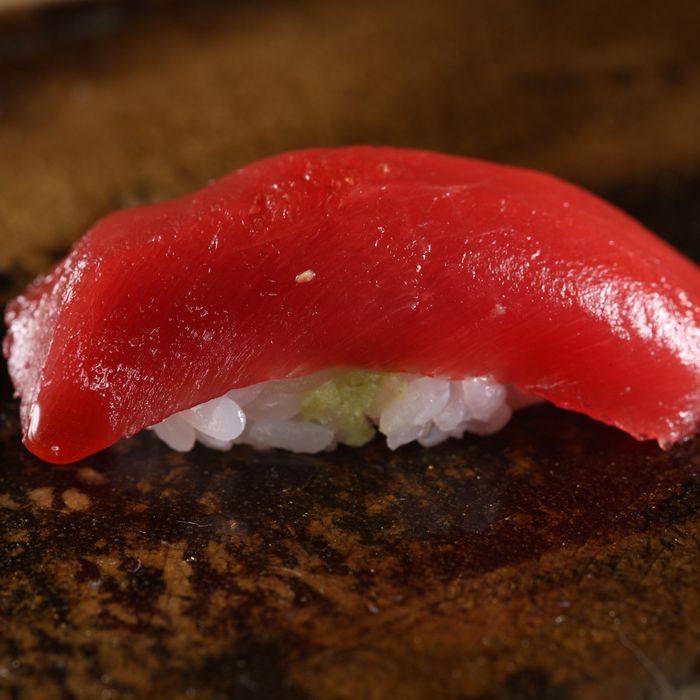 Previously frozen?
Photo: Melissa Hom
A wide-reaching list of proposed amendments to the city's health code includes a section that could affect everything from fluke crudo to the spicy tuna rolls sold at Whole Foods. Article 81, which goes up for vote in March, contains a number of revisions that would affect how cooks work behind the scenes, including calls for more finely calibrated thermometers and a rule that could result in fines for food that is not legibly labeled. Critics say the "most problematic" rule, however, would require kitchens to only use fish that has been frozen ahead of time for crudo, ceviche, and sushi preparations. Inspectors would need to see the process at work during the time of inspection, or at least be able to review documents from purveyors attesting that their product was deep-frozen in accordance with regulations.
Exceptions would be made for farm-raised fish, shellfish, and wild-caught tuna. Most tuna served as sushi already happens to have been frozen or super-frozen to begin with, so moreover, the rule would affect large swaths of the tasting menus at Sushi Nakazawa and Le Bernardin, where much is invested in fish. Some fillets freeze better than others — oily stuff like bluefish tends to defrost resembling nothing like the fish that went into suspended animation — so there are texture and flavor issues. If approved, the code would result in big changes to standard operating procedures at restaurants where chefs are already devoting serious attention to the way their fish is handled. The sea trout, Spanish mackerel, sea bream, fluke, and other courses at Shuko, for example, would be affected, or up to half of the omakase menu.
Interestingly, Article 81 would not stand to protect against instances of foodborne illnesses like Listeria monocytogenes or scombrotoxin, which tend to be immune to freezing. In its proposed amendments, the health department singles out culprits like nasty roundworms, tapeworms, and other parasites that are invisible to the eye and lurk in fish like fluke and flounder, which now commonly appear on high-end menus and tend to arrive fresh at kitchen doors, not frozen.
In its response, the New York State Restaurant Association singled out the proposed requirements for freezers reaching temperatures of -31 degrees, which is much colder than walk-in freezers and even ice-cream freezers. Any changes to code would require restaurant owners to make a "large investment" in equipment like blast chillers, they say.
This isn't the first instance of health-code changes ending up being particularly bad for sushi masters. A proposed California law that was set to go into effect last year would have required sushi chefs to wear latex gloves at all times. Critics said that gloves would interfere with the various subtleties of texture and temperature chef use to gauge the bites of raw fish that are molded by hand. A bill introduced over the summer repealed the requirement after a petition against it reached more than 11,000 signatures.
[Crain's]