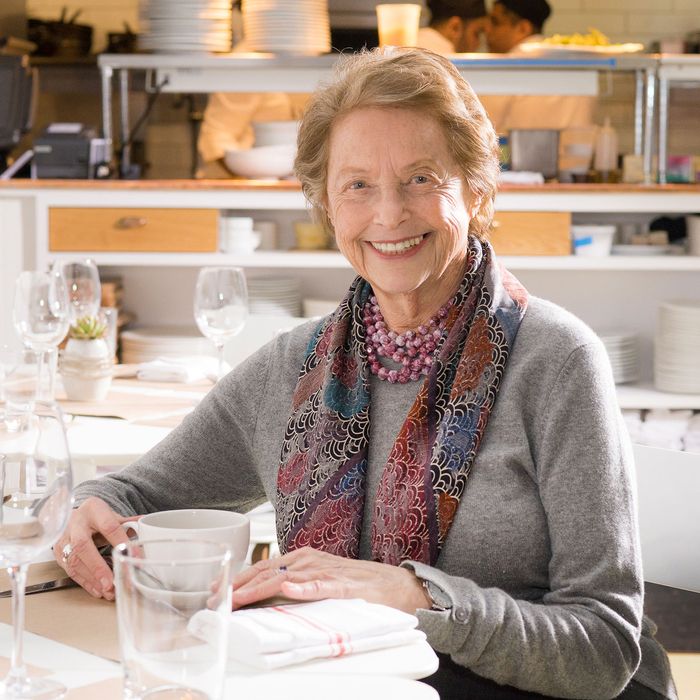 Sheraton at Vic's, one of her favorite new restaurants.
Photo: Noah Fecks
Brought to you by
Mimi Sheraton — who served as the restaurant critic for the New York Times from 1975 to 1983 — is one of the most accomplished and beloved food writers in America. She also happens to be one of the most assertive (Ruth Reichl agrees). But Sheraton's latest book, 1,000 Foods to Eat Before You Die, focuses on what she loves — and this week, she ate a few of the foods cited, like oatmeal porridge, lamb sausage with Rao's marinara sauce, and English Shropshire blue cheese from Murray's. Read all about it in this week's Grub Street Diet:
Thursday, January 15
Knowing I would do this made me self-conscious. Should I eat stylishly gourmet or prove I am up on the current culinary Zeitgeist or stick to the healthful or sustainable? And do all who do this report tell the truth, as, if not, who would know? Decided to go for broke with truth and perhaps learn something about myself. First, a few circumstances that explain some of the following: My dinners at home — about three a week — changed a lot because Richard Falcone, my beloved husband of 59 years, died last February. Meals at home suddenly, sadly meant cooking for one and eating alone, the latter being something I found unbearably dismal to do at the table. The results are dinners that are gracefully edible in a straight-backed armchair while watching the PBS New Hour at 7 p.m. No knives allowed, and found scrambled eggs or omelettes easier to negotiate than fried or poached, and short pasta more practical than long. An added consideration at this season is the weather: If there's snow, rain, sleet, or gloom of an icy night, I stay home and have provisions in my freezer, fridge, and on shelves. Rarely, I order Chinese or Indian food, both requested extra spicy.
On Thursday, up at 6 a.m. with a very sore throat that was especially upsetting, as I had to do a second day of five-hour call-in sessions with 25 satellite radio stations around the country to promote my new book, 1,000 Foods to Eat Before You Die. Chose among my three favorite coffees that I stock and decided on the Falcone blend from McNulty's: three parts Columbia Supremo to one-part Yemen Mocha. Not too hungry, so toasted a Thomas English Muffin and had it with shavings of fontina d'Aosta, the Italian cheese that seems to suggest the white truffles of that same region.
Hungry mid-morning, I had a bowl of Quaker old-fashioned oatmeal with butter, salt, and pepper — sweetened cereal never having been part of my upbringing. Getting ready for the phone, I drank hot Irish breakfast tea with raw honey and a shot of lemon juice that eased my throat.
Tired in the evening after that phone talk and not ready to step out into the cold, I simmered up some chicken thighs from the freezer with also frozen excellent Citarella chicken stock, carrots, celery, onions, and parsley (almost always on hand). Then, cooked some Pennsylvania Dutch-style egg noodles and had a restorative meal. Would also have liked to add parsnip, petrouchka, celery root, and leek, but had none on hand. Then later, a chip of Parmesan and a McIntosh apple and so to bed.
Friday, January 16
Downstairs fixing breakfast at about 6:30, and this time, brewed some of my ready-ground, superbly mellow and complex Hawaiian Kona coffee, with which I had a smear of cream cheese and two slices of Scottish-style smoked salmon on a slice of toasted New York Jewish rye bread by Orwasher from Citarella. Alas, I always forget that bread is too light and too dry and again vow to buy it at Breads Bakery on East 16th Street.
For lunch, I contemplated the epic chakchouka at Mémé, close to my home, but had to be at Flatiron Building for an interview at 1:30. And so grabbed a counter lunch at the adorable Eisenberg's Sandwich Shop just across Fifth Avenue. I had the Friday soup du jour, Manhattan clam chowder, rich in clams and their flavor but in a portion so huge I could only finish half before downing a fried-fish sandwich on toast, accented by nicely cheap and pungent tartar sauce applied from a huge squeeze bottle. No other beverage needed.
Dinner was at seven with my friend and neighbor Sarah Lazin, a literary agent, and we both wanted to know more about En Japanese Brasserie. And what we found out will surely draw us back. Mostly great food with only one or two that seemed lackluster. Among the winners: warm, freshly made tofu, followed by a small bowl of yuba — tofu skin that had nicely cheesey, chewiness, and, like the tofu, took on interest with a soy-sauce mixed dip. Then, a delicious appetizer salad of diced raw tuna with cubed avocado, and moist, lightly charred strips of stone-grilled chicken. Top prize goes to the warm, steamed custard-soup, chawanmushi, topped with slices of black truffle — an inspired combination. We were less moved by a salmon rice pot (decent but bland) or a somewhat limp mushroom salad. I look forward to further research.
Saturday, January 17
Preparing for a morning date to have my hair done at Frederik Fekkai, I fixed a breakfast of scrambled eggs with a couple of Finn Crisps and, for a change, strong, wonderfully complex Ethopian Yirgacheffe coffee that I buy ground. Knowing I would be long at Fekkai where lackluster snacks are wildly overpriced, I picked up a croissant at Cafe Cluny that I would have as a snack-lunch as hair was dyeing, along with some of the great cappuccino brewed at that salon. Alas, the foaming machine broke down, so I had an excellent latte as I munched on the croissant — that was okay, if not quite up to my flakier, more flavorful favorite from the Bakehouse on Horatio Street.
For dinner, I was invited by friend Sally Pope with another experimental eater to the annual Metzgete prepared by her chef son-in-law Ralf Kuettel at his convivial tavern-restaurant, Trestle on Tenth, featuring his native Swiss-German menu. A Metzgete is a nose-to-tail meal of pork including all parts, even the blood made that is made into darkly rich sausages. It's a tradition for butchers in pig-killing season and always in the cold mid-winter, so perfect for that freezing Saturday night.
We started with a sort of large rye bread canape topped with pork butter, grieben (cracklings), and the happy surprise of salty salmon roe. A tart of the exquisitely oozy Swiss Vacherin Mont D'Or cheese was glossed with caramelized onions set with nuggets of smoked bacon and, our last appetizer, a gently chewy pork-filled crepinette sausage enclosed in caul and nested on sautéed spinach.
Unbelievably, three of us finished a Schlactplatte — or butchers' plate basically like the Alastian choucroute garni: lusciously juicy sauerkraut, and creamy whipped potatoes alongside homemade sausage and slices of braised pork belly, garnished by a cloudlet of horseradish whipped cream and fruity, tart applesauce. Oh yes! Before I forget! We also tried a firm and fragrant smoked cabbage, and garlic pork sausage with bright sautéed spinach.
Dessert was a terrific, thick and rustic apple tart that Kuettel's Swiss mother and grandmother used to bake. Of course, there are more contemporary, non-germanic dishes at Trestle, but given my love for the Nordic strain, I stick to that part of the menu.
Sunday, January 18
No dates this day, and so to make up for past indulgences, I ate at home, somewhat simply, at least for me.
For breakfast, I had two very thin slices of the 100 percent all-rye Danish røgbrød from Breads Bakery, thinly buttered and topped with crumblings of the English Shropshire blue cheese that I buy at Murray's and, with that, a big cup of the Falcone blend coffee.
For lunch at home, I scrambled two eggs with lots of minced parsley and, just as the eggs were about to set, threw in some dicings of mozzarella to melt lovingly midst the scramble That, with two sesame wholewheat breadsticks from Citarella and an apple, made up lunch.
Searching the freezer for dinner, I found one spicy, moist fresh lamb sausage from the Florence Meat Market and a half-jar of Rao's marinara sauce, my go-to quicky pasta sauce that I doctor up a bit. I broke open the sausage and sautéed the meat in a dash of olive oil before adding the sauce that I seasoned with fresh onion, parsley, oregano, and black pepper. I had that with a glass of Montepulciano d'Abruzzo as I waited for football to end and for 60 Minutes to begin; thought it would never happen.
Monday, January 19
I had a quick breakfast of Post spoon-size Shredded Wheat with half-and-half and Falcone coffee, determined to have an early lunch out before catching the three o'clock Acela to D.C., where I would be interviewed on the Diane Rehm NPR radio talk show early the next day.
Although one of my favorite go-to restaurants, Good, does not usually serve lunch on Monday, this being MLK Day, they opened for brunch. At around eleven, I ordered something new to me: Cazuela Baked Eggs. And wow! Was I overwhelmed when it arrived, as were those at several tables around me. Presented in a brown earthenware baking dish, known in Provence as a tian, was a seething, steaming creamy mass of baked eggs with still runny yolks, gently silky shavings of leeks, big crunchy toasted croutons, and chunks of smoky bacon. Then, only a single espresso. More than I bargained for perhaps, but something I will surely have again.
Not surprisingly, I ate nothing on the train or until the dinner I had long wanted to have at Jose Andres's Jaleo in Washington, D.C. My enduring curiosity was more than rewarded at this convivially handsome, casual setting, where, by the way, I was expected. That meant we received a few complimentary treats from the resident chef, although the master himself, having so many restaurants, was elsewhere.
Among the amazing tapas were tiny crisp cones filled with creamy, herbaceous salmon tartare topped with coral trout roe; the brilliant Andres creation of liquid olives, the cool, clear gel encased in a thin, green, olive reconstituted skin; dark, roseate slices of earthy Iberico ham; a tomato smeared croustade topped with Manchego cheese, and crisp, golden bunuelos of the dried salt cod, bacalao. Disappointed that the house's legendary paella made with squid ink was not on the menu, I asked about it and the chef hospitably complied. Juicy, dark, rich with a smoky, saline flavor that combined overtones of earth and sea, the rice was the nest for tiny, tender baby squid. It was the best paella — and overall here, the best Spanish food — I have ever had in the U.S. of A. That goes for the extraordinary fresh orange-scented flan as well.
Tuesday, January 20
Today, I paid the piper. Days of delicious excess were met with a day of sensual starvation, starting with the worst croissants I have ever met in the room service Continental breakfast at the otherwise lovely, comfortable Loews Madison Hotel in D.C. Croissants were cottony, overblown, devoid of flavor, although the coffee was good and hot and the cranberry juice garnet clear. Fortunately, there was a decent navel orange in the complimentary fruit basket, which I had before checking out.
The next meal — call it lunch — was billed as an Artisan Sandwich from Cafe Acela, having had no time for a better meal between the NPR interview and the train we wanted to catch. I'd like to meet the artisan who wrapped a thick, doughy so-called pretzel bagel with limp, soggy ham and a cheese called cheddar but a ringer for American. Eating the ham, I discarded the rest.
Home for dinner, tired and chilled, I simmered up some of Citarella's excellent lentil soup that I had in the freezer, bolstered it with slices of a Schaller & Weber knockwurst — also from the freezer — and seasoned it all with garlic, thyme, a piece of celery with leaves, and a few flakes of dried chile pepper. Thus was happily home again on my armchair matching my wits against those of contestants on Jeopardy. I could have won a small fortune.