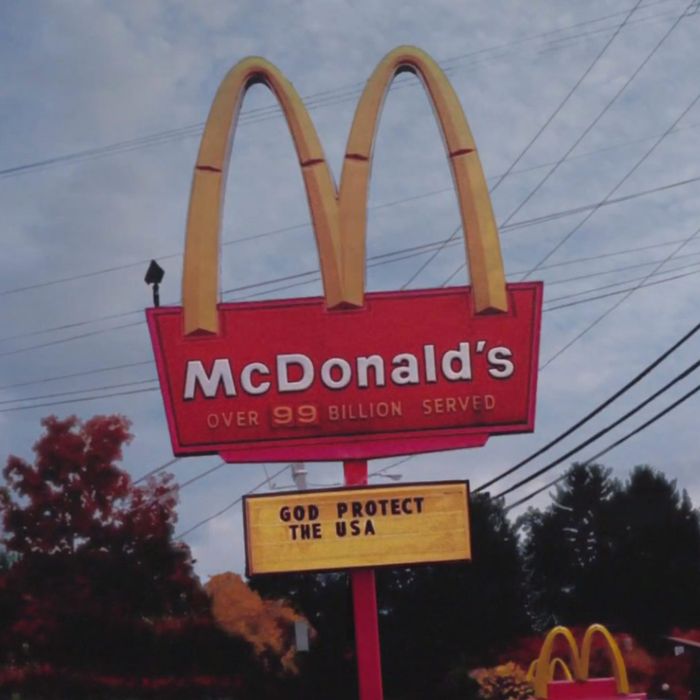 As American as McDonald's fried apple pie.
If you missed the NFL playoffs and Golden Globes this weekend but have been on, say, Twitter anytime since, you're probably aware of an ad called "Signs." The minute-long spot made by powerhouse agency Leo Burnett has struck some as "offensively manipulative" for suggesting McDonald's was "there" for the victims of 9/11, the Boston bombing, the Columbia space shuttle explosion, and more — you know, because of how it arranged some words on letter boards outside of its stores.
Plenty defended the ad as "great," or "brilliant" even, but really, a minute-long collection of roadside marquees with no trace of delinquent passersby or well-meaning misspellings is just begging for parody, as prescient eye-rollers out there picked up on right away:
Someone needs to make a McDonald's commercial with all the signs that have been messed with pic.twitter.com/AXkJan5cVd— Slob Gronkowski (@EDMslob) January 11, 2015

And, well, it took less than half a day:
Others have started popping up, too, like ones that crassly Photoshop things like "We put meth in the Hi-C" over the ad's original signs, so take that as a sign, if you will, that this one is likely to get worse before it gets better.