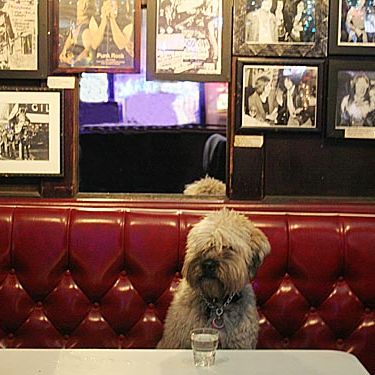 So punk.
Photo: Shanna Ravindra
Handsome Dick Manitoba, who co-owns Avenue B dive bar Manitoba's with his wife Zoe Hansen, tells EV Grieve that settling a lawsuit brought on by a neighbor over noise complaints may end up forcibly closing the place. The memorabilia-lined Dictators front man's Avenue B establishment is one of the remaining vestiges of the neighborhood's gutter scene, and the Bronx native, who once drove a cab and made drinks at several East Village bars before opening it in 1999, is himself a local legend. In other words, it's perfectly plausible that Manitoba's may no longer have a place in the increasingly bright East Village of 2015.
"This is a battle cry for help," he and Hansen write, explaining that the undisclosed amount of the settlement now threatens the bar, along with neighbors who call 311 to report "noise complaints at 8 p.m." Manitoba alludes to a cryptic "wrinkle in the interplay between State and Federal law" as the reason he reluctantly agreed to the settlement, and says the bar will hold auctions and stage concerts in the upcoming weeks to keep the business afloat.