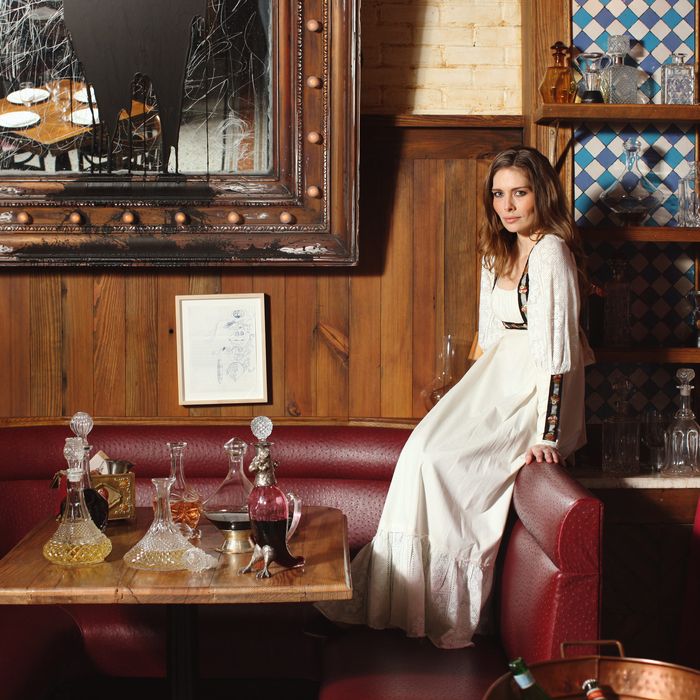 "I really own my position here. I have complete and total freedom."
Photo: Melissa Hom
Dirty French's dining room is full of pink-rooster figurines, eight-foot-high neon signs, and showstopper dishes like a mille-feuille made of thinly sliced king-trumpet mushrooms, yet it is wine director Lelañea Fulton who has caught everyone's attention. (In his two-star review of the restaurant, Pete Wells wrote, " … Lelañea Fulton, who assembled a wine list that is all French, and fun for all kinds of budgets, shows up dressed like one of Charlie's Angels working undercover as a sommelier.") In other words, Fulton is not only a total wine pro — check out her list here, if you'd like — she's also managed to turn the restaurant's dining room into a showcase for her personal style. It's refreshing, considering she works for a group that's cultivated a reputation for being a bit of a boys' club. Grub sat down with Fulton to discuss her unconventional path to becoming a wine director, how she created the list, and why it's important for her employers to accept her sense of individuality.
How did you get your start in the restaurant industry?
When I was younger, I spent years modeling with Wilhelmina. But I absolutely hated it and the culture associated with it, so eventually, I became a photographer, and shot editorials for designers. And then when I moved to acting, I worked as a sommelier to pay my way through acting school and support myself. I just needed to sustain money in between the shoots.
When did you realize that you wanted to seriously pursue wine as a career?
When I first moved to New York, I was working at Megu. The wine director at the time — I was so green — heard me talking about wine. I had already been selling wine everywhere I'd worked outside of New York, because outside of the city, they don't really have sommeliers. She said, "How do you know so much about wine?" And I responded, "Well I like to read …"
Did you grow up with a family that was interested in food and spirits?
I actually started to get into wine through moonshine. I'm from West Virginia, and my family has many acres of land — farm, and lots of corn. You could always tell someone who is into making moonshine because they'd have far more corn than a family would need. So, I remember the first time I tasted moonshine, and I was really excited about the concept of fermentation and distilling. And my family, being Irish, always kept whiskey around for the medicinal use, in order to heal colds.
I remember when I was 13, we were at some sort of book sale, and I picked up the 1970 first edition of Hugh Johnson's World Atlas of Wines. I started reading that and I talked my mom into taking me to a Big Bear grocery store, where I bought a big jug of Chablis by Carlos Rossi, and it was absolute shit. I remember tasting it and trying to compare and understand what terroir was. I found that wine was very interesting, unique, and difficult.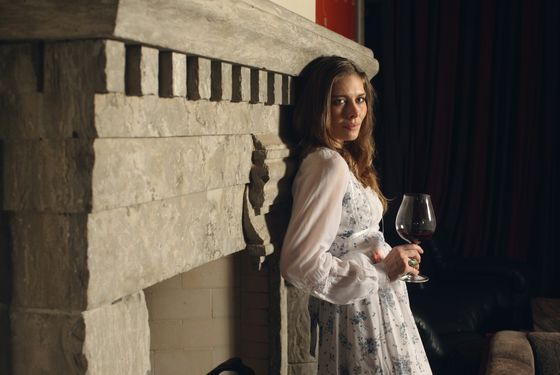 Did you get certified as a master sommelier?
The Megu wine director there eventually said, "How would you like to be my somm?" and I said, "Absolutely." So my training came more through experience — being self-taught, and reading — than it did through formal education. I eventually started taking formal classes to advance myself.
How did you connect with the Torrisi team?
I went on to do off-and-on sommelier and wine-directing work, and I worked at Thor — the Hotel on Rivington. I was also the wine director of Ono at the Gansevoort, because I can work with sake. Then, I worked with the Crown team at the Lion, Crown, and Bill's. I ended up going to Harry Poulakakos, who owns Harry's at Hanover, and has one of the most amazing wine lists. He asked me to write the list for Bacchanal.
I think they [the Torrisi team] heard about me, and they told me they had been looking a really long time for a wine director, and they just didn't think they were going to find the right person. They were very enthusiastic about me working with them. I was so flattered and humbled, because if you look at the group, it includes some of the most amazing young professionals. I thought, with the talent that they're cultivating, I would be mental not to jump on this ship.
How much freedom did they give you in both making the list, and also, expressing yourself through your personal style?
I really own my position here. I have complete and total freedom with the wine list. They gave me directions on what they like, and I made this huge wine list of about 450 wines. But then I finally got the opportunity to taste the food, and I went, "Oh, fuck — I completely have to redo the list." I had relied on some of the most traditional wines of France, and once I tasted the food, I was like, "None of this is going to work." So I started focusing on off-the-beaten-path and obscure characteristics, and Rhône — looking for the funk and the richness.
Because the food was a little edgier than you had thought it would be?
Absolutely. And then, all of the sudden, Alsace just made so much sense, because of the spices in the food. I got to lean more on Alsace, which most places don't: They want you to focus on Burgundy and Bordeaux. I have a lot on winemakers and vintages that offer a little bit more richness and funk, so I'm not too much focused on the traditional. And the decanters are so much fun!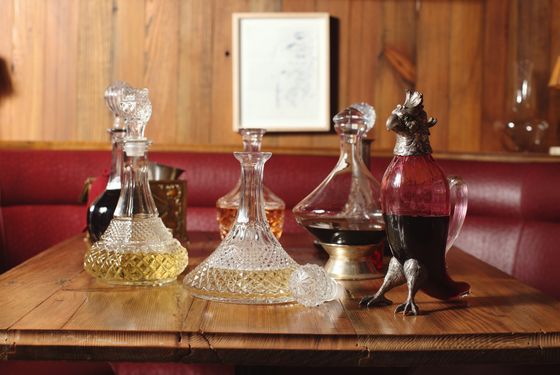 Let's talk about your style, which I love. Is this how you've always dressed, or is it more of a work uniform?
I've been collecting Gunne Sax clothing since high school, so that would've been in the '90s. Gunne Sax is a brand that was made in the '60s in San Francisco, all the way up to the early '90s. Different designers would come on, and Made by Melissa collection is what I predominately wear, because it's a little more flow-y, angelic, and feminine. It seems to fit so well for me, and so I've been collecting these since high school. I grew up with super-bohemian parents that were artists, so it's been very much a part of my upbringing. I also like to buy clothing that's made in America, so it's perfect.
And the great thing about vintage is that you're not going to walk down the street and see somebody else wearing what you're wearing. It really gets to be your style because it's not something you see on a mannequin. For me, it's so much more expressive of my personality than if I were to go buy something from a high-end designer.

Have you been surprised by all the attention your outfits have received? Are your employers supportive?
Yeah! It's funny enough, but a lot of the restaurant owners are really cool with me wearing these outfits. There are only a few restaurants I was somm'ing at where I was forced to wear a suit, or suit pants. As a wine director, I'm given freedom. They never question me. They're like, "That's her thing."
I remember, when we were opening Dirty French, everyone was saying, "Oh, can I just keep my suit here at work?" And I was like, "I need a legit closet!" Then, they understood. Our office is upstairs in one of the hotel rooms, and since we don't use the shower — the whole shower is a closet for me, where I hang all my dresses. The GM has finally given up. He's like, "All right, fine, It's your closet." I always say, "This is who I am, and if you have a problem, just let me know."