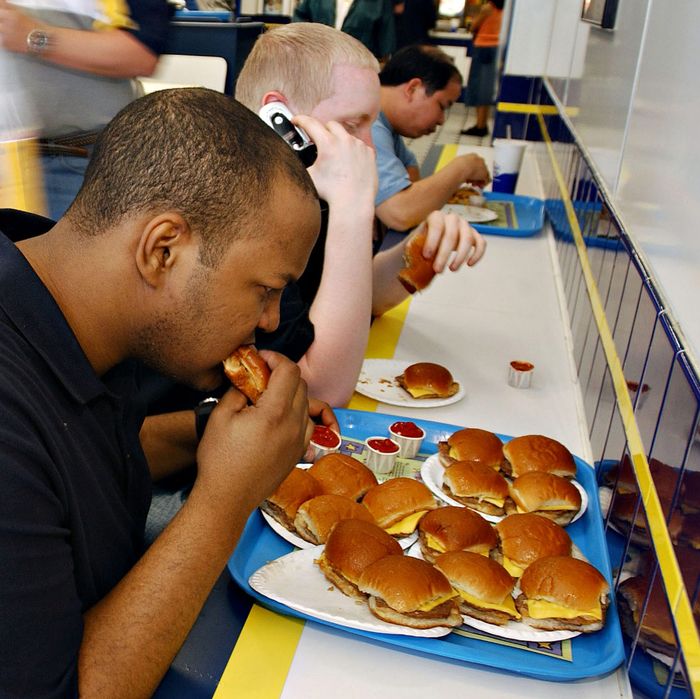 The "Craver Nation" expands to Nevada.
Photo: Emile Wamsteker/Bloomberg News
It was six long months ago that people in Las Vegas got wind that White Castle was coming not just to the western United States, but to the Strip. Now that day is here, bringing them 5,615 square feet at the Best Western Plus Casino Royale in which to eat square sliders, 24/7, right underneath the world's largest Denny's. The next closest location is actually in Missouri, 1,665 miles away on the Mississippi River, so perhaps it's no surprise that people were willing to wait for two to three hours to get in, the Las Vegas Review-Journal and L.A. Times reported.
This serpentine line formed last night right after the grand opening:
It all makes sense, really, since White Castle is for late-night cravings, its devotees are the "Craver Nation," and nobody in Vegas ever knows what time it actually is anyway. Some people drove from miles away, like a pregnant lady who came from Phoenix and told the local news, "I'm craving White Castle. My dad said I should name my baby 'Castles.'"
But just look at these hordes, spirits un-dampened in the daylight, waiting for chicken rings, fries, and iconic sliders:
The scene earlier outside our Vegas castle #WhiteCastleVegas pic.twitter.com/SIPVxKZTTs— White Castle Vegas (@WhiteCastleLV) January 27, 2015