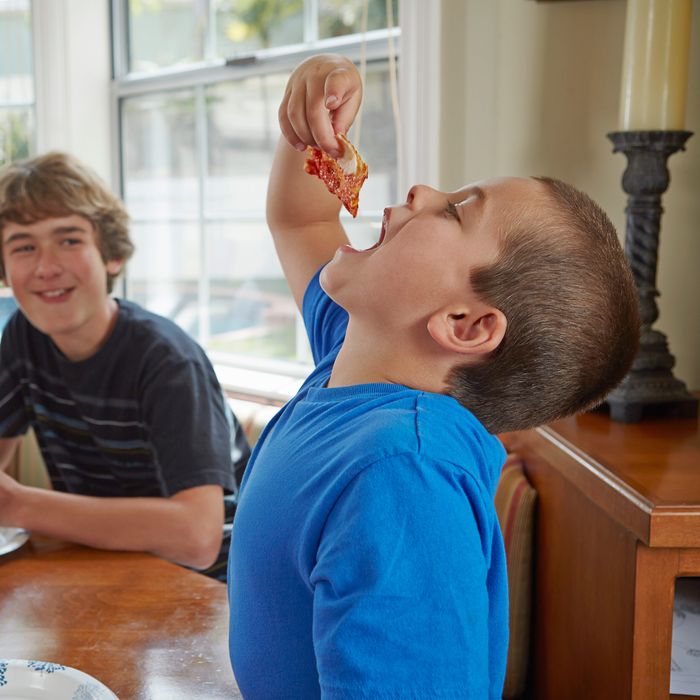 Another day, another pie.
Photo: Tony Garcia/Corbis
Pick any random day, and on average one in five American kids is having pizza, a new study published in the journal Pediatrics finds. The authors, a health-policy team out of the Illinois Prevention Research Center, analyzed what 2- to 19-year-olds ate between 2003 and 2010, and were probably not at all amazed to discover that on these quite frequent pizza days, the kids also consumed a lot more calories (84 for kids under 12; 230 for teens), saturated fat (3 grams; 5 grams), and sodium (134 milligrams; 484 milligrams).
Unbelievable as it may seem, pizza chains have actually spent much of those years pushing "healthier" pies — perhaps assuming no one looks at the salt content. Rather, the study suggests the problem is just that kids keep eating it more often, which implicates parents. The authors say if you take the calories the cohort consumed each time they ate pizza, that number fell by 25 percent, news likely to encourage more chains to follow Pizza Hut's "Skinny Slice" lead. But the kids' "overall pizza intake" year-to-year stayed exactly the same. In addition, while academics have noted fast food has a worse effect in lower-income areas, this study reports that these ill effects of pizza that we're stuck with "generally did not differ by sociodemographic characteristics." In other words, we may have found society's equal-opportunity dietary offender.