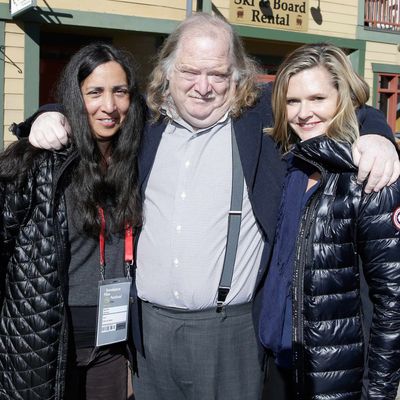 Gold, center, with L.A. Times editor (and Gold's wife) Laurie Ochoa, left, and City of Gold director Laura Gabbert.
Photo: Isaac Brekken/Getty Images
This past weeknd, Los Angeles Times restaurant critic Jonathan Gold publicly dropped his anonymity — a move that also served as an opening salvo to his onscreen debut in City of Gold, an intimate portrait of the Pulitzer Prize-winning writer that premiered Monday at the Sundance Film Festival. The documentary's director, Laura Gabbert, says she wanted to make a film on Gold because his writing changed the way she saw Los Angeles. "I moved to Los Angeles in the mid-'90s to go to graduate school and wasn't excited to live there," Gabbert explains. "While I was there, I started to read Jonathan's writing, and it started to change my attitude towards Los Angeles. It wasn't as much about the food for me as appreciating the city and all it had to offer. I knew I wanted the film to be about Jonathan, but I also wanted it to be about Los Angeles."
The film follows Gold, famous for his championing of hole-in-the-wall L.A. restaurants, as he tracks everything from mom-and-pop Thai to tweeting taco trucks for his reviews that are part anthropological studies, part Valentines to his hometown. Grub Street caught up with Gold at Sundance to talk about the implications of revealing his face to the world, why he'd rather not talk to a New Yorker about pizza, and what it's like to be a restaurant critic with his very own documentary.
Was it hard to get you to agree to this project?

Adam Platt just came out, and I just came out in a big way — coming out has so many connotations. There's that trepidation about giving up the pretense of anonymity. I have been saying no to reality TV for years. Some people even approached me about being a pitchman, which I thought was the funniest thing in the world. Can you imagine me being Guy Fieri? It was for food products, obviously.
Chefs may know who you are, but the average diner will not. Will this change how you do your job?

I have been reviewing restaurants in L.A. for 30 years. If you're a restaurant critic, they know who you are.
Why is anonymity so important to a food critic? We don't necessarily expect that from our film critics or our fashion critics.

I have a few theories about it. One is, Craig Claiborne was the first professed anonymous restaurant critic, at least in a major newspaper. The idea was that you would be able to be fair, and people wouldn't give you special food. In some ways, that may have made more sense in the '60s, '70s, and '80s, when you would go to the top restaurants in New York and they would all basically be doing the same 20 dishes.
In New York, I think that happens to a certain extent. I have had the experience of being in Le Bernardin when they didn't figure out who I was until halfway through the fourth course, at which point the chef came running in and suddenly it was the best dessert I'd ever had in my entire life, like blueberries the size of golf balls. It probably happens at sushi bars. You're not going to get any kind of a decent meal at a sushi bar unless the chef knows who you are. The thing of being known at restaurants, they know who you are and they are going to save you those golf ball blueberries and you're going to get the best cut of the mackerel that comes in because they know you are going to keep coming back.
Is this film the reason you publicly revealed your identity? 

It's funny because it was supposed to run months ago, but let's say the clock was probably ticking a little more relentlessly because of this. I have had my picture taken more times today than in my entire life to date.
What were the ground rules of filming?

The main ground rule at first was that she couldn't go with me to a restaurant that I was in the course of reviewing, and she pushed back on that a lot. I took her to restaurants that I had reviewed that I really liked and had worked their way into my routine, you know the way you adopt restaurants because you love them so much.
David Chang says in the film he wishes you were in New York. If you were the critic for the New York Times rather than the L.A. Times, how would you cover New York?

New York has a layer of restaurants that don't exist anywhere else in the country, and probably the world. When I was at Gourmet, I wrote about the 50 best restaurants in the country in order. And I had to admit, that if I were going to be completely, absolutely, honest about it, probably 35 or 40 of them would be in Manhattan, there was just no question. New York is obviously different now and I have a lot of empathy for the stuff going on in Brooklyn. A lot of Queens isn't being covered to the extent that it could be. It is not glamorous, Queens, but there's some great food. It would be fun to go back to New York and do that again because there's that certain level of restaurants, the Jean-Georges and the Daniel, that just doesn't exist in Los Angeles.
What do you think of the rise in food blogging and people taking pictures of their food?

In a way, it's silly, but in a way, everyone makes sense of their food experience the way that they do. It is fun to take pictures of food. It is fun to swap Instagrams. It is probably fun to write reviews on Yelp. I found a writer for the [L.A.] Times who does stuff for us that I like a lot because she was the good writer on Yelp in Los Angeles.
Why is it that it is hard to get a great slice of pizza in L.A. or a great San Francisco burrito in New York? 

There's great pizza in L.A. Pizzeria Mozza is the second best pizza place in the country.
But that quintessential slice, or that perfect L.A. taco in New York …

Part of what you need is an audience of people that are used to eating it every day and have an extreme connoisseurship. One of the things that's going on in both L.A. and New York right now is the ramen wars. In Tokyo, everyone has their idea of what a pork broth should be, and everybody has their idea of the firmness of the noodle, and everybody has their idea of how to do the perfect egg to put in there. You have dozens of people doing exactly the same thing in slightly different ways. Some people prefer one, some people prefer the other, but you can have arguments about it all day. I never want to talk to a New Englander about a Lobster roll ever again in my life. And I'd prefer not to talk to a New Yorker about pizza either.