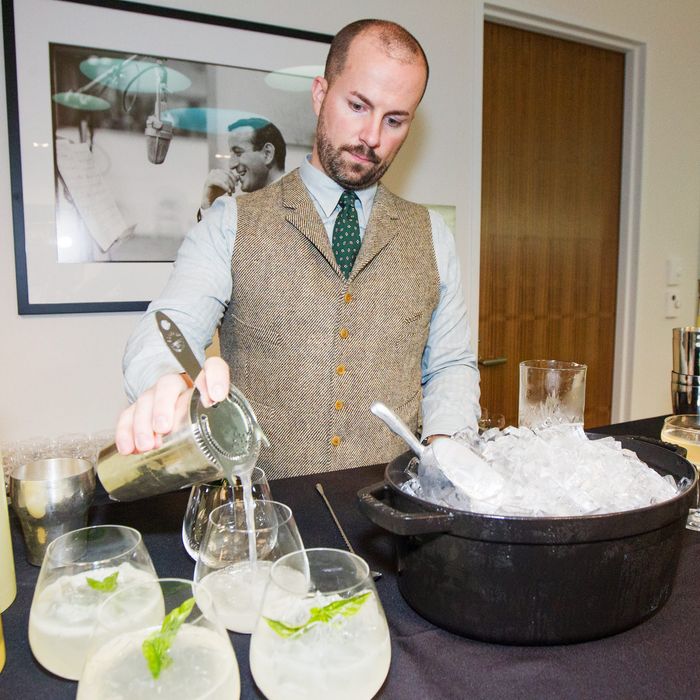 The book will be published next year.
Photo: Kimberly White/Getty Images
Since leaving New York last summer and moving to Portland, Oregon, PDT's Jim Meehan has kept busy with new projects, including a PDT database app that should be ready to by the end of the month ("There are photographs of every cocktail and every ingredient," Meehan says), and he's prepping a potential Portland restaurant project ("It will be more a restaurant than a bar, but it will have a strong bar program"). And perhaps the most exciting thing he's working on right now is an upcoming book titled Meehan's Manual.
"As I look at other cocktail books, my favorite is the first-person bar guide," Meehan says. "If you look at Jerry Thomas' Bartenders Guide and then you move to Harry Johnson's Bartenders' Manual, which is super specific about everything from cash handling to customer service to cleaning glasses, then I think it comes full circle with Charles Mahoney's Hoffman House Bartender's Guide, which has a lot of great ethical and moral stuff." He adds, "It has a Setting the Table feel," he says, referencing the Danny Meyer best seller that's a bible for many in the service industry.
So how will Meehan's Manual compare? "Instead of being solely personal insight into why I do what I do, I'm going to incorporate dozens of people who've influenced me over my career, from bartenders to chefs to writers." One example is John Glaser of Compass Box Whisky, who once impressed Meehan while visiting New York years ago: "He was a country gentleman — John's famous for reinvigorating the Scotch whisky business with respect to its blends. But no one's ever told the story of how hospitable John Glaser is." And then there's Jimmy Bradley of the Red Cat, whom Meehan worked with years ago. "He talked about the 'in and out'," Meehan remembers. "You explain a cocktail or a glass of wine in a precise enough way that you don't get stuck at the table playing 20 questions." He continues, "They're ll be a chapter about how you should serve. I'm thinking about how I want my bartenders to carry themselves."
Right now, Ten Speed Press is scheduled to publish the book in autumn of 2016, though Meehan has been thinking about the project for years. "The PDT Cocktail Book is what we do and how we do it," he says. "Now I want to write a book that's why we do it."